PASTA WITH KALE PESTO & ROASTED BUTTERNUT SQUASH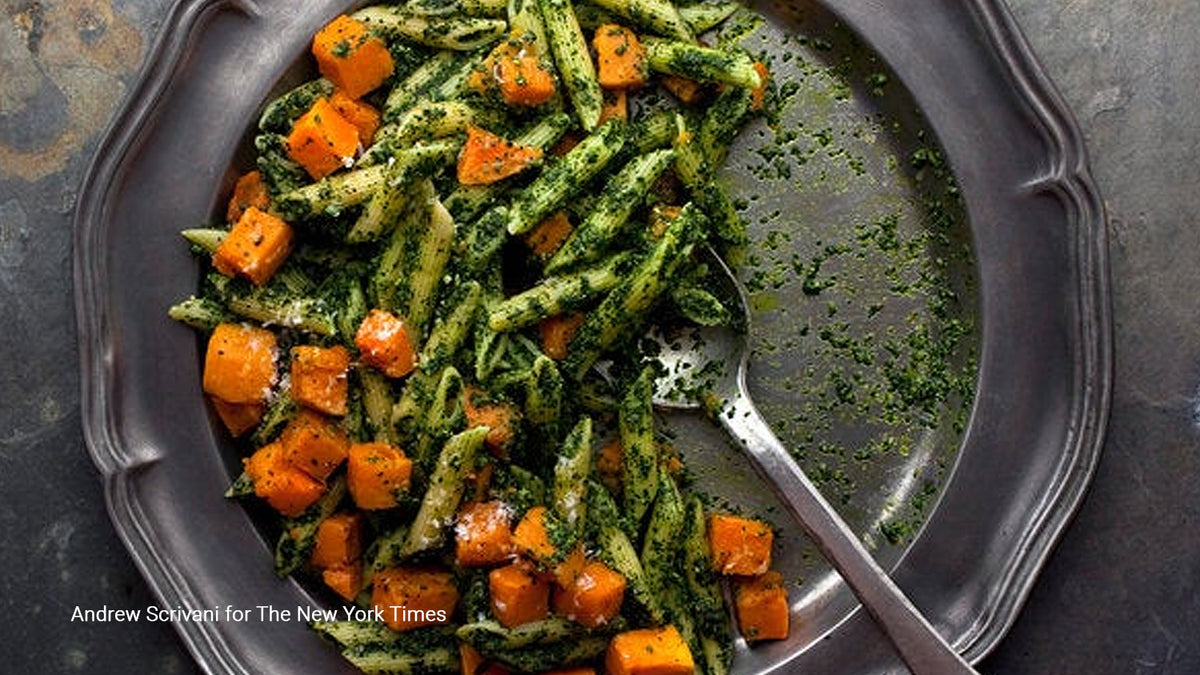 First published September 2011
It's autumn and time to return to the wonderfully-healthy seasonal produce in our gardens and farm stores.  This recipe (adapted from a New York Times recipe) uses two of the most healthy veggies you can eat — kale and squash.  Kale is loaded with Vitamins A, C and K (anti-inflammatory) and Calcium.   Butternut Squash contains impressive amounts of Vitamin A (beta-carotene), Vitamin C, Potassium and fiber.
If you're not a squash fan you can toss in some halved cherry tomatoes, lightly sauteed zucchini, red peppers or for the meat-eaters out there, add some sliced and browned turkey or chicken sausage…or anything else that "floats your boat".  The main thing here is the delicious kale pesto which is good just on its own with any pasta!
Ingredients:
1 1/2 pounds butternut squash
1/2 cup extra virgin olive oil, more for drizzling
3/4 teaspoon kosher salt, more for squash
Freshly ground black pepper
8 ounces pasta (I've used  whole wheat penne rigate as well as whole grain linguini)
FOR THE PESTO
1 small bunch (about 1/2 pound) Tuscan or regular  kale, center ribs removed
1/3 cup toasted pine nuts (or walnuts)
2 large garlic cloves, roughly chopped
Finely grated zest of 1 lemon
Freshly squeezed lemon juice, to taste
Grated Parmesan cheese, for serving.
Directions:
1. Preheat oven to 400 degrees. Use a vegetable peeler to peel squash, then halve it lengthwise and scoop out seeds. Dice squash flesh into 1-inch pieces, place on a baking sheet, and toss with olive oil and season generously with salt and pepper. Spread pieces into an even layer, making sure there is space between them. Roast, stirring squash pieces once or twice, until golden brown and tender, about 30 minutes.
2. Meanwhile, bring a large pot of salted water to a boil.  Drop kale into boiling water and cook for 45 seconds.  (OPTIONAL:  put handfuls of the kale into a metal strainer and submerge in the boiling water for 45 seconds.  Use tongs to take out the strainer.  Empty cooked kale into a colander to drain and cool.  KEEP THE WATER you boiled the kale in and use to cook the pasta.  Add more water if you need it.
3. Drain the cooked kale well, then wrap tightly in a dry kitchen towel and squeeze thoroughly to remove any excess moisture. Roughly chop leaves.
4. In a food processor, pulse together kale, nuts, garlic, salt and lemon zest (you can also add some of the grated parmesan cheese at this point) until mixture is smooth and salt has dissolved. With motor running, slowly drizzle in the oil until fully incorporated. Taste and add more salt dissolved in a little lemon juice, if necessary.
5.  Bring the water in the pot back to a boil, cook pasta according to package directions. RESERVE A LITTLE OF THIS WATER (1/2 cup) BEFORE DRAINING.
6. Drain pasta.  Toss pasta with kale pesto and some pasta cooking water if necessary to help it coat pasta. Add the rest of the cheese, lemon juice and salt to taste.  Serve topped with squash and more cheese.
NOTE: I had quite a bit of the pesto left.  You can keep in the fridge for a few days or you can freeze it in a suitable container.
---