Tomato Bruschetta (by Ali Slagle for NYT)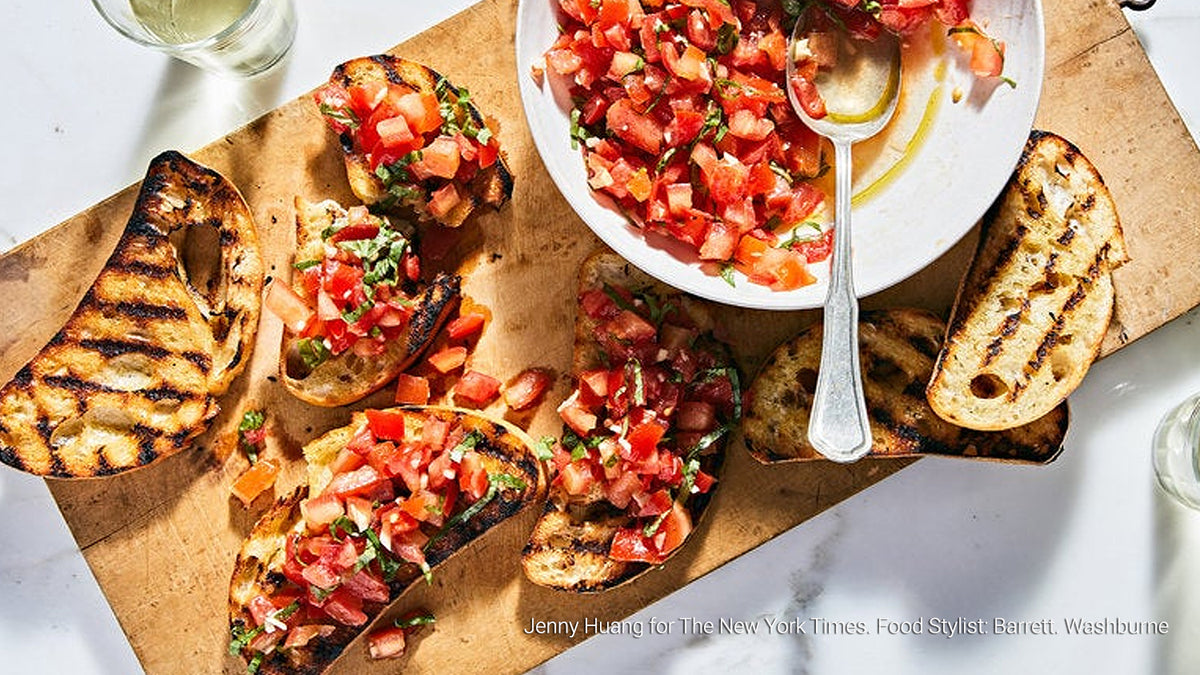 One last summer tomato recipe while tomatoes still taste like tomatoes. You know what I mean...they just don't taste the same any other time of year. So, this classic Tomato Bruschetta recipe by Ali Slagle in the NYT is easy to make and one of the best-tasting bruschetta I've ever had.
NYT WEBSITE IF YOU CAN FOR MORE DETAILS
INGREDIENTS
1 lb plum tomatoes (about 4 or 5 large) or another variety of ripe tomatoes - we used a combination tomatoes we had on hand (plum, yellow gold and others)
1 teaspoon kosher salt
5 tablespoons extra virgin olive oil
2 large garlic cloves, minced
8 large basil leaves
Grilled or toasted crusty bread, for serving - we grilled lovely baguette slices
DIRECTIONS
1) Core and chop the tomatoes, then transfer to a colander over a bow or in the sink. Add the salt and gently stir. Let drain for up to 2 hours. (the draining is very important..."the longer the better" according to the recipe's author)
2) Meanwhile, make the garlic oil: In a small saucepan, warm the olive oil and garlic over low heat until the garlic is softened and fragrant, about 5 minutes, making sure the garlic doesn't brown. Set aside to cool.
3) Roll the basil leaves up and thinly slice crosswise (i.e. chiffonade them)
4) When the oil is cool and the tomatoes are well drained, combine the tomatoes, garlic oil and basil in a medium bowl. Season with additional salt, to taste. Spoon over toasted bread.
SERVE.
---