Caponata Toast (from Vegetable Simple: A Cookbook)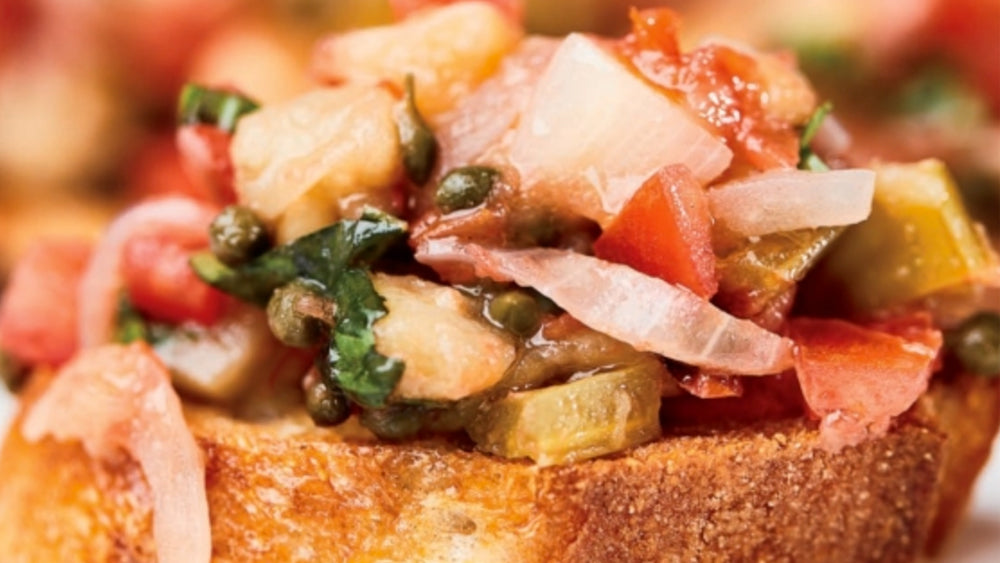 Vegetable Simple: A Cookbook - From Eric Ripert, one of the world's most renowned chefs, 110 essential recipes that celebrate the beauty, simplicity, and elegance of vegetables. (NYT Bestseller). 
It's Summer and our farmers markets and gardens are offering up their bounty. Here's a recipe to try from this really great new cookbook.


From Chef Ripert -


To me, caponata toast feels like a sophisticated version of bruschetta, with more complex flavors. A platter of these makes an impressive passed canapé or even a centerpiece on the table for guests to help themselves. Top the toasts with the eggplant at the last minute to avoid them getting soggy. Here we use a baguette, but any type of bread or even crackers will do.
CAPONATA TOAST

(Serves 4)
INGREDIENTS
2 tablespoons extra-virgin olive oil
½ medium onion, cut into ¼-inch dice
1 rib celery, cut into ¼-inch dice
2 garlic cloves, finally chopped
1 red bell pepper, cut into ¼-inch dice
1 medium eggplant, cut into ¼-inch dice
 Fine sea salt and freshly ground white pepper
1 tomato, peeled, seeded, and cut into ¼-inch dice
1 tablespoon red wine vinegar
1 tablespoon small brined capers
1 tablespoon finely chopped fresh parsley
1 baguette, cut into 16 slices (1/2 inch thick) and toasted.
DIRECTIONS:
IN A LARGE, HEAVY-BOTTOMED POT, heat the olive oil over medium heat. Add the onion and celery and cook until softened, about 5 minutes. Stir in the garlic, bell pepper, and eggplant, season with salt and pepper, and cook, stirring regularly, until tender, about 15 minutes.
Add the tomato and vinegar and cook until the tomatoes soften and release their juices, about 4 minutes. Remove from the heat and stir in the capers and parsley. Season to taste with salt and white pepper. Top the baguette slices with caponata and serve immediately.
---