Yotam Ottolenghi's Multi-Vegetable Paella (from our archives)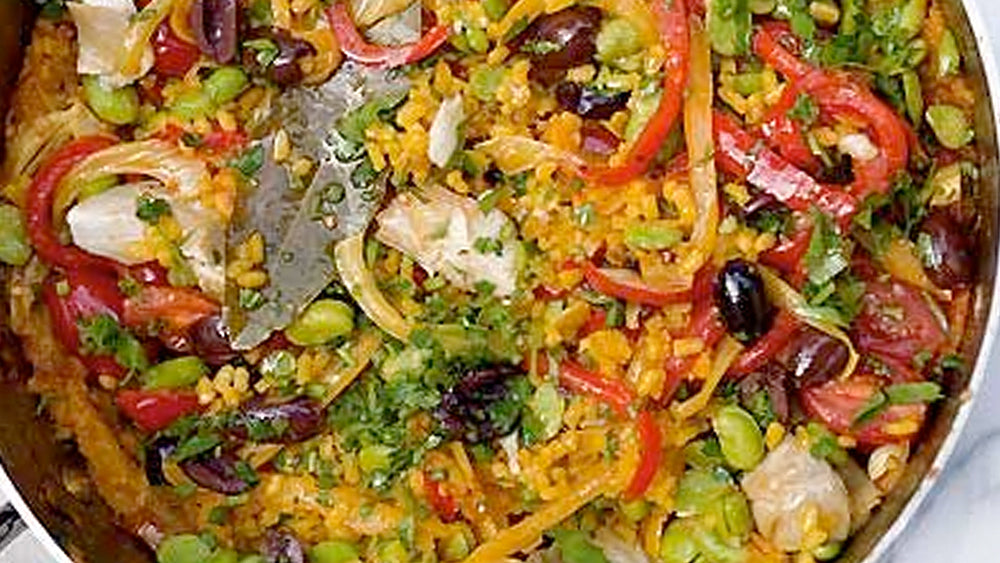 First published June 2012
I love Paella. I make a regular paella that is a combination of Julia Child's, Barefoot Contessa's recipes and little from me. But here's a vegetarian version that is fantastic and SO healthy. It's from one of Hammertown's best-selling cookbooks ever: Yotam Ottolenghi's PLENTY.
-- Joan
(Serves 2 very generously or 4 smaller portions which is better for you!)
Ingredients:
3 TBL olive oil
1/2 Spanish onion, finely chopped
1 small red bell pepper, cut into strips
1 small yellow bell pepper, cut into strips
1/2 fennel bulb, cut into strips
2 garlic cloves, crushed
2 bay leaves
1/4 tsp smoked paprika
1/2 tsp ground turmeric
1/4 tsp cayenne pepper
1 cup short-grain paella rice (I use Uncle Ben's converted rice for my paella)
6 1/2 tbl good quality sherry
1 tsp saffron threads
salt
2 cups boiling vegetable stock
3/4 cup shelled fava beans (fresh or frozen)
12 plum tomatoes, halved
5 small grilled artichokes in oil from a jar, drained and quartered
15 pitted kalamata olives, crushed or halved
2 TBL roughly chopped parsley
4 lemon wedges
Directions:
1. Heat up the olive oil in a paella pan, or a large shallow skillet, and gently fry the onion for 5 minutes. Add the bell peppers and fennel and continue to fry on medium heat for about 6 minutes, or until soft and golden. Add the garlic and cook for 1 minute more.
2. Add the bay leaves, paprika, turmeric and cayenne to the vegetables and stir well. Then add the rice and stir thoroughly for 2 minutes before adding the sherry and saffron.
3. Boil down for a minute, then add the stock and 1/2 tsp salt. Reduce the heat to the minimum and simmer very gently for about 20 minutes, or until most of the liquid has been absorbed by the rice. Do not cover the pan and don't stir the rice during the cooking.
4. Pour plenty of boiling water over the fava beans in a bowl and leave for a minute, then drain well and leave to cool down. Now squeeze each bean gently to remove the skin and discard it. (Or purchase canned fava beans)
5. Remove the paella pan from the heat. Taste and add more salt if needed but without stirring the rice and vegetables much. Scatter the tomatoes, artichokes and fava beans over the rice and cover the pan tightly with foil. Leave to rest for 10 minutes.
6. Take off the foil. Scatter the olives on top of the paella and sprinkle with parsley and serve with lemon wedges.
---