White Bean & Andouille Sausage Cajun Soup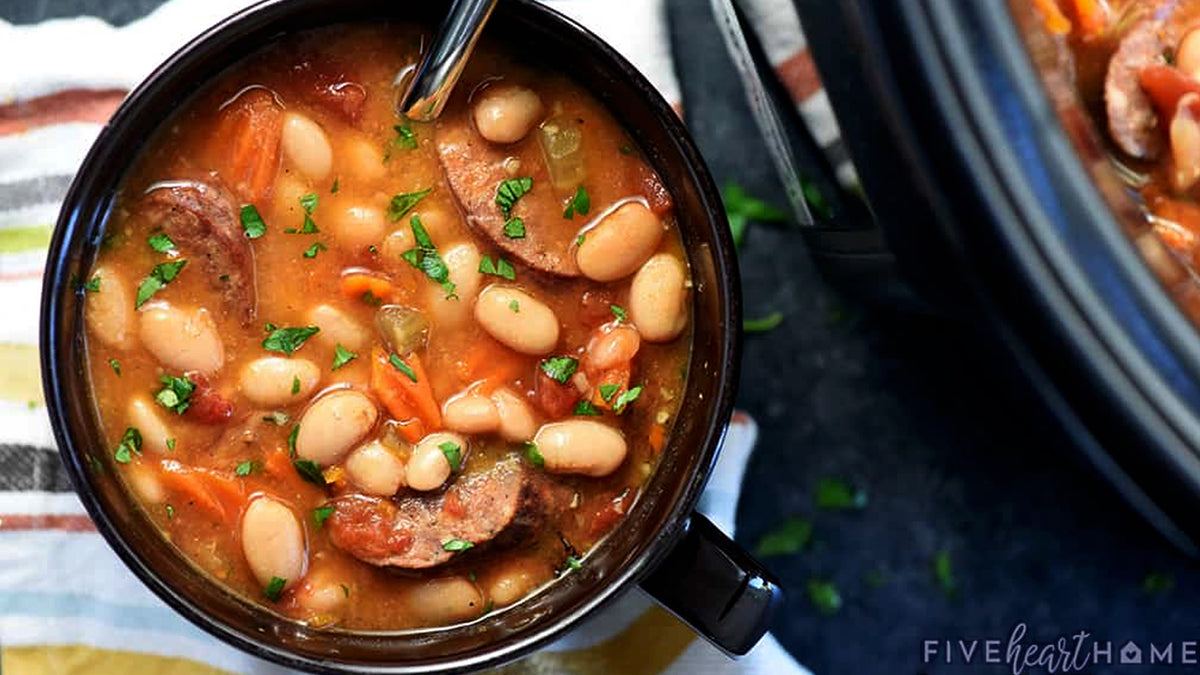 Adapted from a slow cooker recipe by Samantha Skaggs, I made this soul and body-warming soup last week. It's got a Cajun kick to it and believe me, it's just the thing to make this weekend's Arctic Blast a little more bearable.
I didn't have time for a slow cooker so I just used my Dutch oven. I also made a few ingredient adjustments. It came out beautifully! I'll be trying this recipe again in a slow cooker and will follow Samantha's instructions. However you make it, trust me, you're going to love this soup!
To access the original slow cooker recipe on Five Heart Home.com  (Samantha's excellent website) please CLICK HERE
INGREDIENTS
1/2 pound dried Navy or Great Northern beans**
6 to 8 oz andouille sausage (I used a precooked andouille chicken sausage)
2 tablespoons EVOO
1 generous cup celery (diced or sliced...I like to chop up some of the celery leaves as well)
1 generous cup carrots (diced or sliced)
1 generous cup yellow onion (diced)
1 - (15 oz) can diced fire-roasted tomatoes (I didn't use the whole can)
4 cloves of garlic, minced
6-8 cups of organic chicken broth (depending on how thick you like your soup)
1 large bay leaf
1-2 stems of fresh thyme (don't worry about chopping you'll be removing the stems before serving)
1/2 teaspoon ground cumin
1/2 teaspoon smoked paprika
1 tablespoon Creole seasoning*
DIRECTIONS
Prepare your dried beans (see note below)
In a large stockpot or Dutch oven, heat the olive oil over medium-high heat. Add the slices of precooked andouille and brown just a little. Remove from the pot and set aside.
Add the onions, celery and carrots and cook 2 to 3 minutes, stirring occasionally. Add the garlic and cook, stirring, an additional minute. 
Add the tomatoes, chicken broth, thyme and bay leaf. Bring to a boil and then add the prepared beans, cumin, smoked paprika, and Creole spice mix.
Reduce the heat to a simmer and cook partially covered for about 20 minutes, stirring occasionally, then add the andouille and cook until the beans are tender (another 30-45 minutes partially covered). Remove the thyme stems.
At this point, some people like to mash some of the beans to make the soup's consistency thicker. You could use a potato masher or wooden spoon...an immersion blender would be the easiest and fastest way.
I decided NOT to mash the beans as the soup was the consistency I wanted.
When done, ladle the soup into bowls and serve with some hot crusty bread...you'll want to sop up every drop!
_____________________________
** NOTE ON COOKING WITH DRIED BEANS **
I read an article about year ago about cooking with dried beans. It quoted a Mexican chef who said it's unnecessary to soak dried beans overnight. It takes too much time, waterlogs the beans, and passes up the opportunity to add some flavor to them before being added to a recipe. He says to put the dried beans in a pot or saucepan depending on the amount of beans you're cooking. Cover them with at least 2 inches of water (at all times) and add appropriate herbs (for this recipe I added some slices of onion...garlic...some celery leaves and cumin seeds). Bring the beans to a boil and let them boil for 10 minutes then cover and simmer for about 30 minutes (keep adding water if you need to). Test the beans now and then for tenderness (some beans might take longer than others). They can be a little firm if you're adding them to a stew or soup that will be cooking them longer. The result is a far superior tasting, delicious bean that isn't mushy and flavorless. I will NEVER go back to the old days of soaking beans overnight again.
---