Pasta Primavera with Asparagus and Peas (from our archives)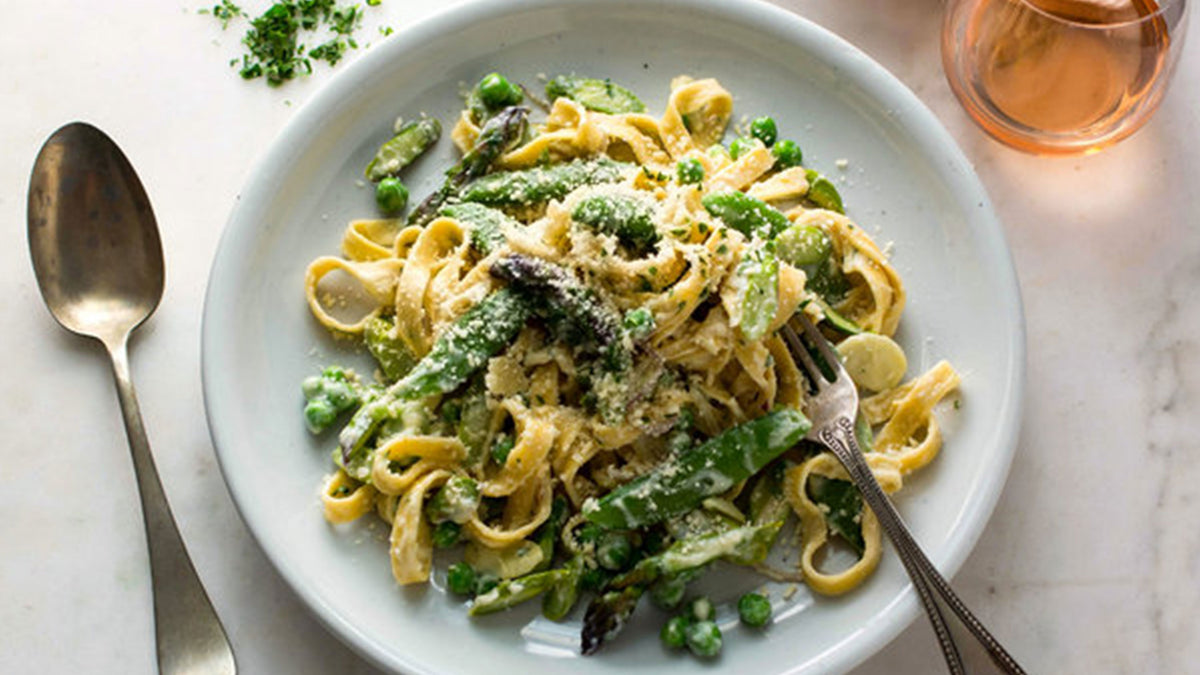 First Published May 2015
Yes...another Asparagus & Pea pasta recipe but really...you can never have enough early spring veggie recipes as far as I'm concerned. This one is another winner from Melissa Clark for the New York Times.
From the NY Times: This simple pasta primavera uses a combination of the earliest vegetables available in spring — asparagus, peas and spring onions—making it a true celebration of the season. The sauce works best with springy egg pasta, preferably homemade or a good purchased brand. Make sure not to overcook it; you need the chewy bite to stand up to the gently cooked vegetables. If you can't find good fresh English peas, you can substitute frozen peas, but don't add them until the last minute of cooking. (Photo by Andrew Scrivani for The New York Times)

CLICK HERE to access this recipe directly from the NYT
Ingredients:
¼

pound sugar snap peas, stems trimmed

½

pound asparagus, ends snapped

2

tablespoons unsalted butter

¾

cup fresh English peas

¼

cup thinly sliced spring onion, white part only (or use shallot)

2

garlic cloves, finely chopped

½

teaspoon fine sea salt, more as needed

Black pepper, more as needed

12

ounces fettuccine or tagliatelle, preferably fresh (see recipe)

⅔

cup grated Parmigiano-Reggiano, at room temperature

½

cup crème fraîche or whole milk Greek yogurt, at room temperature

3

tablespoons finely chopped parsley

1

tablespoon finely chopped tarragon
Preparation:
Bring a large pot of heavily salted water to a boil over medium-high heat.


While the water is coming to a boil, slice snap peas and asparagus stems into 1/4-inch-thick pieces; leave asparagus tips whole.


Melt butter in a large skillet over medium-high heat. Add snap peas, asparagus, English peas and onion. Cook until vegetables are barely tender (but not too soft or mushy), 3 to 4 minutes. Stir in garlic and cook 1 minute more. Season with salt and pepper; set aside.


Drop pasta into boiling water and cook until al dente (1 to 3 minutes for fresh pasta, more for dried pasta). Drain well and transfer pasta to a large bowl. Immediately toss pasta with vegetables, Parmigiano-Reggiano, crème fraîche and herbs. Season generously with salt and pepper, if needed.


---