Warm Mushroom Toast with Port, Herbs & Ricotta (from Erin French)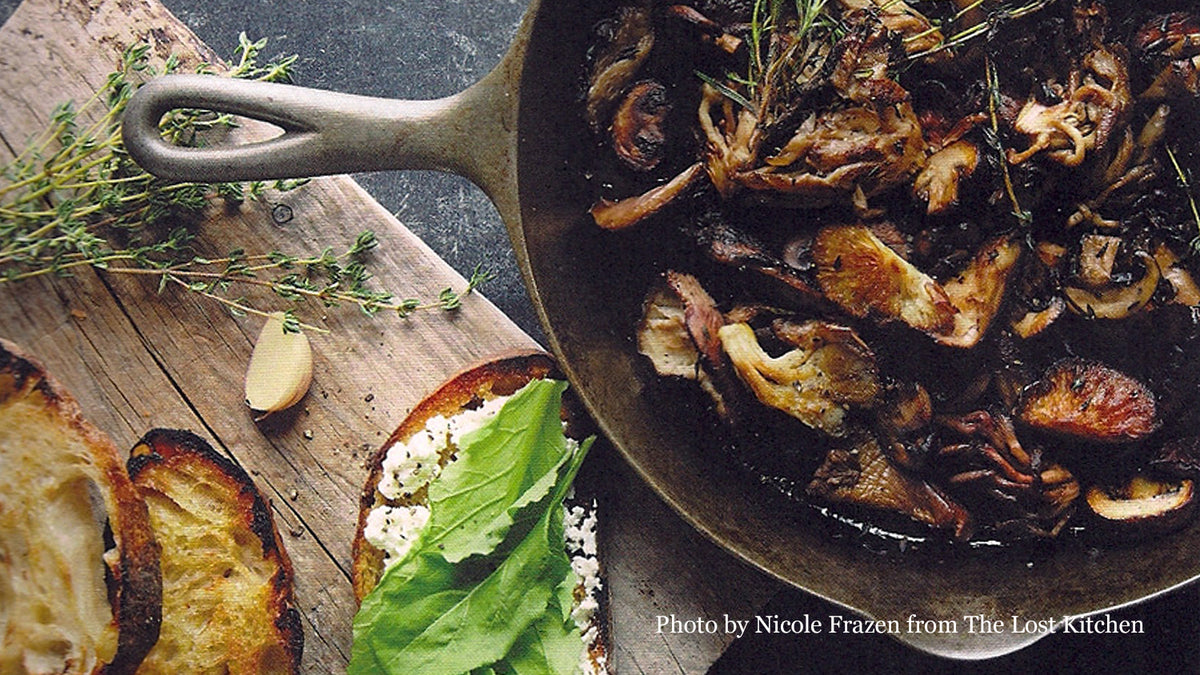 FROM OUR ARCHIVES
FIRST PUBLISHED FEBRUARY 2018
Here's a delicious appetizer from Erin French's The Lost Kitchen (buy now online) to serve with a cocktail before your Valentines Day dinner.  Of course, Erin has a good story to go with all her recipes so without further ado…
This dish came about when one of my mushroom guys turned up with baskets and baskets of different types of mushrooms.  I thought back to one of my favorite ways to eat them: buttered and sautéed in port, reminiscent of my dad's campfire version from our days camping up at Mount Katahdin. Then I spooned them over a schmear of ricotta cheese on toasted sourdough, and layered in the damp, mossy taste of the woods with a whisper of thyme and rosemary.
(serves 4)
INGREDIENTS
2 tablespoons olive oil, plus more for drizzling
½ pound mixed mushrooms, such as cremini, shitake, and button
2 sprigs of fresh thyme
1 sprig of fresh rosemary
Salt and pepper
¼ cup port
3 tablespoons unsalted butter
4 thick slices of good sourdough bread
1 garlic clove
½ cup ricotta cheese
Small handful of arugula
¼ cup pecorino shavings
DIRECTIONS
Preheat oven to 425º F
Set a large ovenproof skillet, preferably cast iron, over high heat and pour in the olive oil. Add the mushrooms, thyme, and rosemary.  Season with a good pinch of salt and a few twists of pepper.  Sauté for 2 minute.
Add the port and bring to a boil.  Cook for a minute, then add the butter and transfer the pan to the oven.  Roast until the mushrooms are just tender, 5 minutes.
Meanwhile, drizzle the bread with a little olive oil and crisp it up in the oven (or on a hot grill or in a toaster). When just golden and crisp, about 4 minutes, rub the toast with the garlic clove.
Top each piece of the bread with a schmear of ricotta, a few leaves of arugula, and mushrooms and a bit of pan juice.  Sprinkle with pecorino and serve. Yum.
---