Warm Marinated Olives (from Ina Garten's "Cook Like a Pro")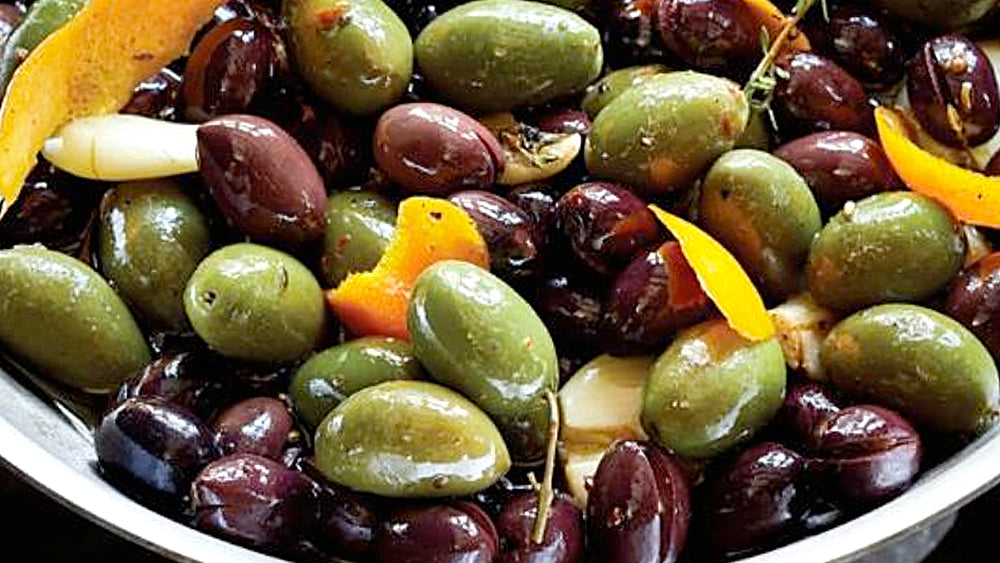 I served these Warm Olives as appetizers for a Thanksgiving dinner a few years ago and they were a HUGE hit and oh so easy to make!  And they looked just as beautiful as the photo in Ina's wonderful book "Cook Like a Pro" (available in our Hammertown stores!!) I'm thinking an encore presentation for New Year's Eve would be well-deserved. And, come on, you really can't fail with an Ina Garten recipe.  She, by the way, likes to serve them with cocktails before dinner.


If you're looking for more appetizers for your Christmas or New Year's Eve (or any) party check out this fantastic collection of recipes from the NYT: 48 Christmas & Holiday Appetizers  (requires a subscription to NYT Cooking)


(Photo from "Cook Like a Pro" by Quentin Bacon)


INGREDIENTS:


2 cups large green olives with pits, such as Cerignola (11 ounces)
2 cups large black olives with pits, such as Kalamata (11 ounces)
Zest of 1 orange, peeled in large strips
4 large garlic cloves, smashed
2 teaspoons whole fennel seeds
2 teaspoons chopped fresh thyme leaves
3/4 teaspoon crushed red pepper flakes
Kosher salt and freshly ground black pepper
2/3 cup good olive oil
4 sprigs fresh thyme


DIRECTIONS:


Drain the green and black olives from the brine or oil that they're packed in and place them in a medium bowl. Add the orange zest, garlic, fennel seeds, thyme leaves, red pepper flakes, 1/2 teaspoon salt and 1/2 teaspoon black pepper. Pour the olive oil over the mixture, add the thyme sprigs and toss to combine.

Transfer the mixture, including the olive oil, to a medium (10-inch) sauté pan. Heat over medium heat until the oil begins to sizzle. Lower the heat and sauté for 4 to 5 minutes, stirring occasionally, until the olives and garlic are heated through and fragrant. Serve warm right from the pan or transfer to a serving dish. Offer a small dish for the pits.
---