Tomato-Braised Green Beans and Potatoes (from Washington Post)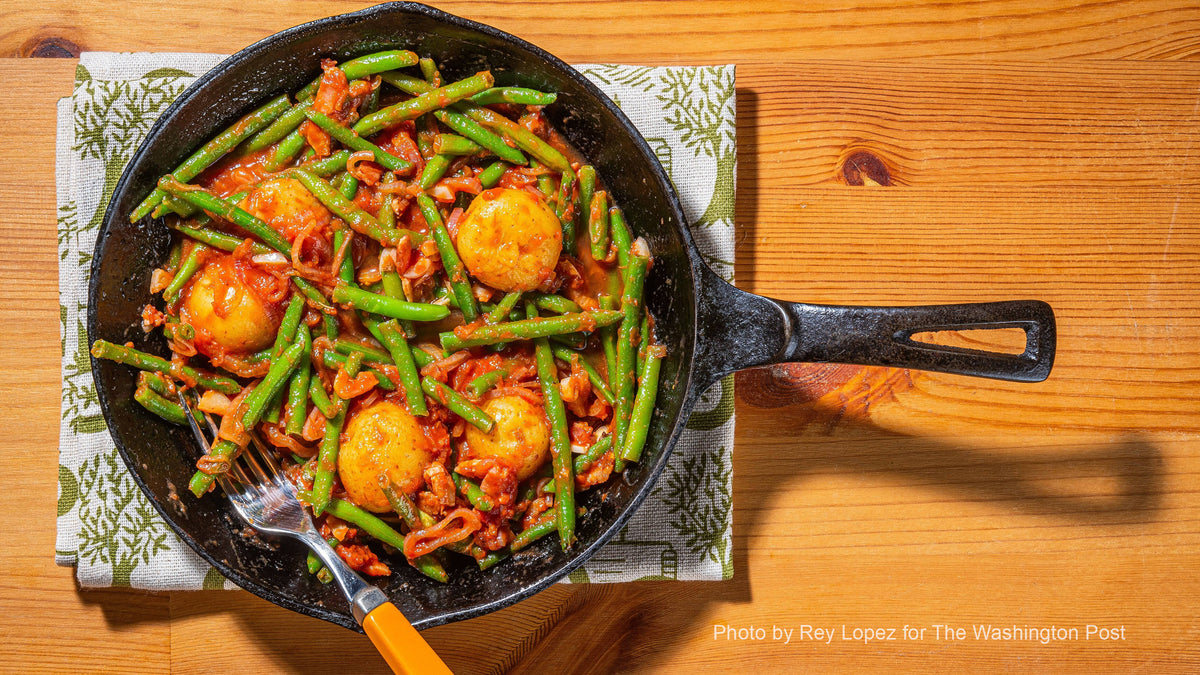 We're about to go away for a few days and wanted to clean out the fridge and the waning harvests from our veggie garden. When I saw this recipe by Food Editor Joe Yonan in G. Daniela Galarza's Washington Post column "Eat Voraciously" I knew it was meant to be. Like many of the Eat Voraciously recipes you can make it your own by adding or substituting ingredients depending on what you have on hand. I'm going to give it a try for dinner tonight and will let you know how it goes. Maybe you try it too and let us know what you thought?
UPDATE: I made this recipe a day after this posting...and it was FANTASTIC!  I did not add the honey as I used our own ripe tomatoes from the garden which were very sweet. I highly recommend this recipe...flavorful and so satisfying.
IMPORTANT: This recipe makes ONE SERVING.
Tomato-Braised Green Beans and Potatoes
Servings: 1 as a main course, 2 as a side
Total time: 25 mins
Ingredients
1 slice bacon, chopped (may substitute 2 teaspoons extra-virgin olive oil)

1/2 teaspoon Spanish smoked paprika (pimenton)
1 large (1 1/2 to 2 ounces) shallot lobe or very small onion, cut into very thin slices

2 cloves garlic, cut into thin slices 
6 ounces (1 1/2 cups) frozen green beans (I'll be using fresh from our garden)

1 cup canned, no-salt-added crushed tomatoes, plus their juices (will crush our own VERY ripe tomatoes)

Water (optional)

4 or 5 very small new potatoes, scrubbed well (about 5 ounces total)

Kosher or sea salt

1 teaspoon honey
Steps
1. Place a small skillet, with a tight-fitting lid, over medium-high heat. Once the skillet is hot, add the bacon and fry until crisp, 3 or 4 minutes. (If you prefer to use olive oil instead of bacon, heat it in the skillet until it shimmers.) Sprinkle in the Spanish smoked paprika, then stir in the shallot or onion and the garlic. Cook, stirring frequently, until the shallot or onion has softened and is starting to brown, 4 minutes.
2. Add the green beans and toss to incorporate, then add the tomatoes and their juices. Add water as needed so the beans are barely covered. Top with the potatoes.
3. Let the mixture come to a boil, then reduce the heat until the mixture is barely bubbling around the edges. Cover and cook until the potatoes are tender and the green beans are very soft, with no trace of crispness, about 30 minutes, stirring a few times and adding water as needed. Season with salt to taste. Stir in the honey and serve.
From Food editor Joe Yonan.
Nutrition information per serving: Calories: 380; Total Fat: 11 g; Saturated Fat: 4 g; Cholesterol: 16 mg; Sodium: 510 mg; Carbohydrates: 57 g; Dietary Fiber: 12 g; Sugars: 17 g; Protein: 13 g.
All the ways you can play:
Omit the bacon >> or consider using bits of ham or sauteed mushrooms.

The onion and garlic >> add depth, but you could use scallions or skip them.

In place of frozen beans >> use the same quantity of fresh, trimmed. They may take a bit longer to cook.

Instead of canned tomatoes >> use two large roma tomatoes, chopped.

The potatoes add heft >> but you can skip them, adding more green beans to the dish instead.
For easy printing and scaling, view this recipe in our Recipe Finder.
---