Sweet Corn Salad With Buttermilk Vinaigrette by Kay Chun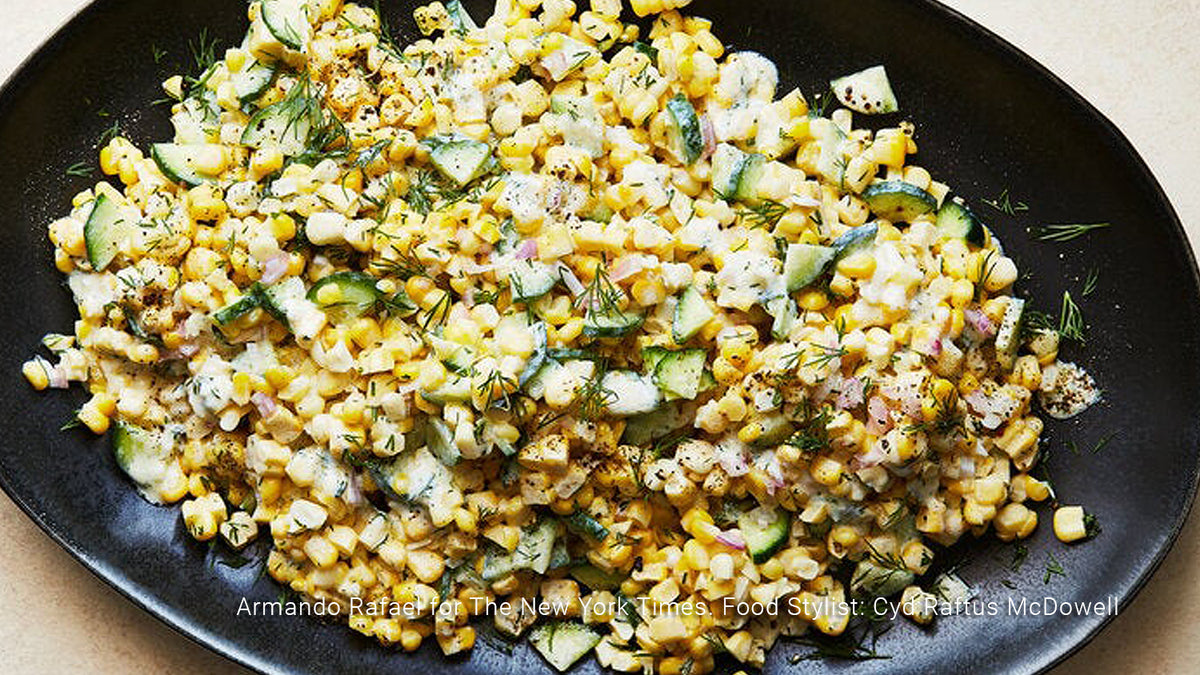 This Kay Chun recipe appeared in a recent NYT piece featuring easy to make summer salads. Our friend, Amy Gold, introduced this absolutely DELICIOUS fresh corn salad to us. Sweet corn season is just weeks away!!
CLICK HERE to access this recipe on NYT.com
INGREDIENTS:
(Yield: 6 to 8 servings)
Kosher salt (such as Diamond Crystal) and black pepper
8 ears fresh corn, shucked
½ cup buttermilk
¼ cup extra-virgin olive oil
¼ cup sour cream
2 tablespoons chopped dill
1 tablespoon minced shallot
1 teaspoon minced garlic
2 small cucumbers (such as Kirby or Persian), quartered lengthwise and thinly sliced (2 cups)


DIRECTIONS:
1)  Set up a large bowl of ice water. In a pot of salted boiling water, blanch the corn until the raw flavor is gone and corn is bright yellow, 2 minutes. Drain and transfer corn to the ice water and let cool. Drain well, then cut kernels off the cobs. (You should have about 8 cups of kernels.) Discard cobs.
2)  In a large bowl, combine buttermilk, oil, sour cream, dill, shallot and garlic. Season with salt and pepper; whisk until smooth.
3)  Add corn and cucumbers to the dressing. Season with salt and pepper; toss to evenly coat. The salad can be made a few hours ahead and kept refrigerated. Bring to room temperature and toss well before serving.
---