Sausage and Peppers Pasta with Brocolli (from the NYT)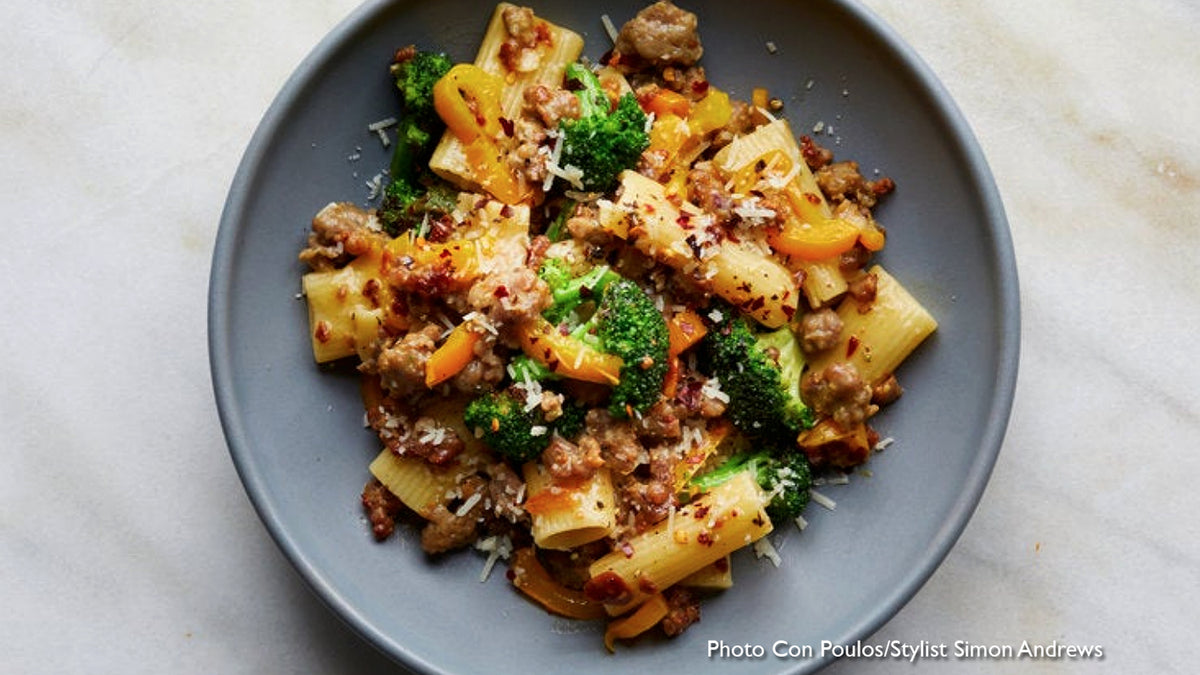 Kay Chun's quick (under 30 minutes) and cozy recipe from the NYT is a great choice for a delicious week-night meal. Who doesn't love sausage and peppers? And, the addition of broccoli (and substituting pork sausage with chicken or turkey sausage) make it nutritious AND delicious! Easy peasy :)
CLICK HERE to access the recipe on the NYT website
INGREDIENTS
¼

cup extra-virgin olive oil

1

pound sweet Italian pork sausage, casings removed

1

pound broccoli, cut into 1½-inch florets (about 4 cups)

2

medium yellow bell peppers (12 ounces), cored, seeded and thinly sliced (about 2½ cups)

3

cloves garlic, thinly sliced

Kosher salt and pepper

1

pound rigatoni

½

cup grated Parmesan (2 ounces), plus more for serving

2

tablespoons fresh lemon juice (from about ½ lemon)

½

teaspoon red-pepper flakes
DIRECTIONS
1. Heat 2 tablespoons oil in a large nonstick skillet over medium heat. Add the sausage and cook, breaking up the meat using a wooden spoon, until browned, about 5 minutes. Scrape the mixture into a medium bowl. Add the remaining 2 tablespoons oil, the broccoli, peppers and garlic to the skillet and season with salt and pepper. Cook, stirring often, until they soften and begin to brown, about 8 minutes.
2. Meanwhile, cook the pasta in a large pot of boiling salted water until al dente. Reserve 1 cup cooking water and drain the pasta. Return the pasta and reserved cooking water to the pot over low heat. Add the broccoli mixture, cooked sausage and its accumulated juices, ½ cup Parmesan, the lemon juice and red-pepper flakes and stir vigorously until liquid is slightly thickened and saucy, about 2 minutes. Season with salt and pepper.
3. Serve the pasta with additional Parmesan for sprinkling on top.
---