Joan & Vicki's Cranberry-Cornbread Stuffing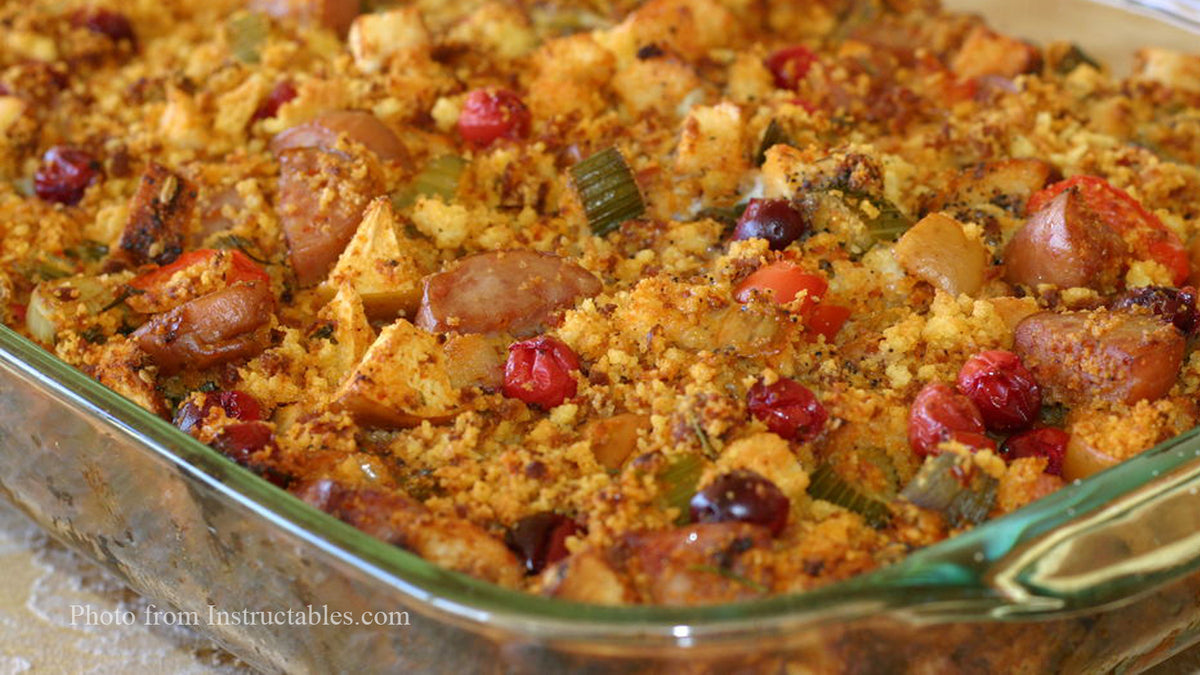 From our Archives
First published November 2009
This is a recipe between good friends. It dates back over 40 years...that's how long Vicki and I have been making it. It's from an old cookbook on Vicki's cookbook shelf, but we've made changes and adaptations over the years. I've added roasted chestnuts, more onions, pine nuts...just let your imagination go wild. One year, I even eliminated the sausage and used veggie burgers to please the vegetarians in my family. I also eliminate the green pepper.
Give this a try! 
INGREDIENTS:
4 cups cranberries
1 cup water
1-1/2 cups sugar
1 pound sausage meat, cooked and crumbled, with drippings
9 cups crumbled corn bread (I use Pepperidge Farm Corn Bread Stuffing)
1 cup diced celery
1 small onion, chopped
1/2 cup diced green pepper (I eliminate this)
1/2 tsp thyme
1/2 tsp marjoram
1/2 tsp sage
1 small unpeeled red apple, cored and chopped
1/4 cup lemon juice
1 cup applesauce
DIRECTIONS:
1. Preheat the oven to 350 degrees.
2. In a saucepan, combine the cranberries, water and sugar. Bring to a boil and simmer ten minutes, or until berries are tender. Drain off juice.
3. Combine drained berries with the remaining ingredients. Turn into a greased casserole and bake one hour (or use to stuff a 14 pound turkey...that's what I do)
YIELD: Ten Servings
---