Jack & Bob's Corn Pudding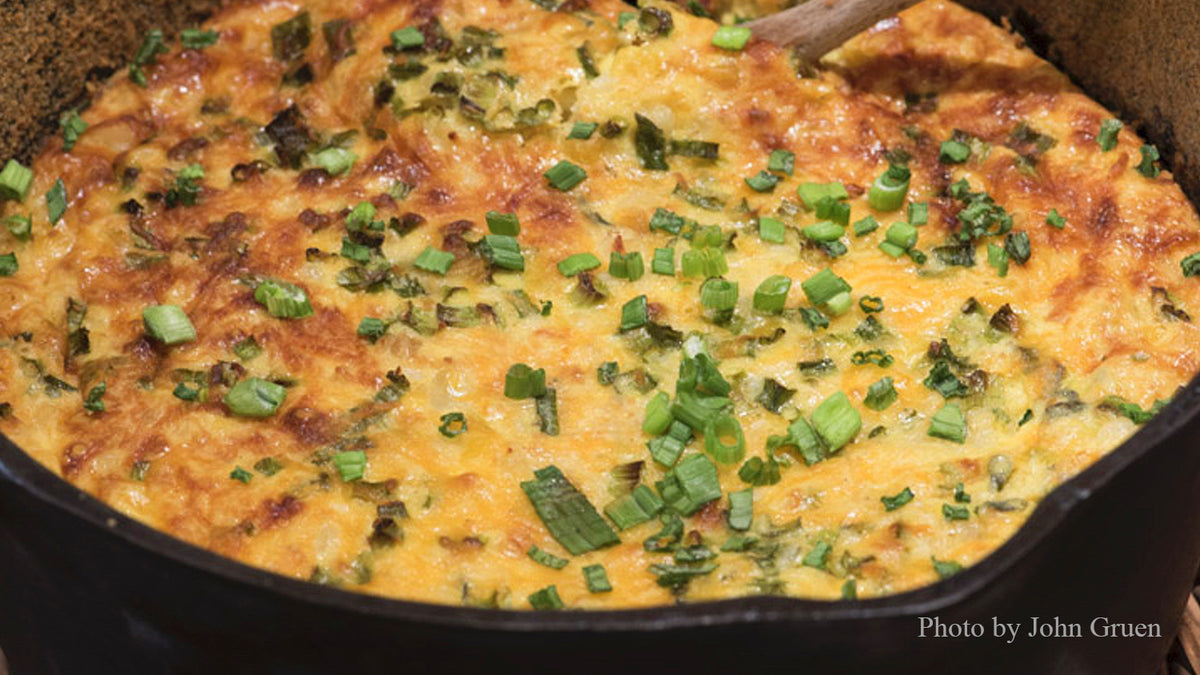 Jack Lindsey and Bob Murphy shared this old family recipe at a potluck supper hosted by Joan and was included in her and Abby Adam's book "Entertaining in the Country: Love Where You Eat."  Bob and Jack are owners of Doodletown Farm antiques. You can visit their booth at the Millerton Antiques Center in Millerton (one of Joan's favorite places to find interesting vintage & antique pieces).
This satisfying casserole is simple to prepare. It's great on a buffet table or as a main course for a luncheon.
Time: 1 hour
Serves 8
INGREDIENTS:
6 ears fresh corn, preferably white & yellow mixed (or one 10-ounce package frozen corn kernels plus one 15-ounce can creamed corn)
1 cup whole milk
6 large eggs, beaten
1-1/2 cups shredded mild Cheddar cheese
1/2 cup shredded Monterey Jack cheese
8 tablespoons (1 stick) unsalted butter, melted
1 bunch scallions, chopped (reserve green tops for garnish)
Kosher salt and freshly ground black pepper
DIRECTIONS:
1.  Preheat the oven to 375º F.
2.  To prepare the corn: Husk the ears and remove the corn silk. Scrape off the kernels along with the milk (the liquid from the corncobs) into a large bowl. OR if not using fresh ears, add the package of frozen corn and can of creamed corn into the bowl.
3. Add the whole milk, eggs, Cheddar, Monterey Jack, butter, scallions, and salt & pepper to the bowl. Stir to combine.
4. Pour the mixture into a deep 8-inch cast iron skillet (or any ovenproof baking dish) sprinkling on the scallion tops.
5. Bake for 40 minutes, or until the middle of the dish is just set. (If the top gets too brown wile cooking, cover with a piece of aluminum foil.)
Note: The corn pudding is best served immediately. It can be reheated.
---