Ina Garten's Butternut Squash Gratin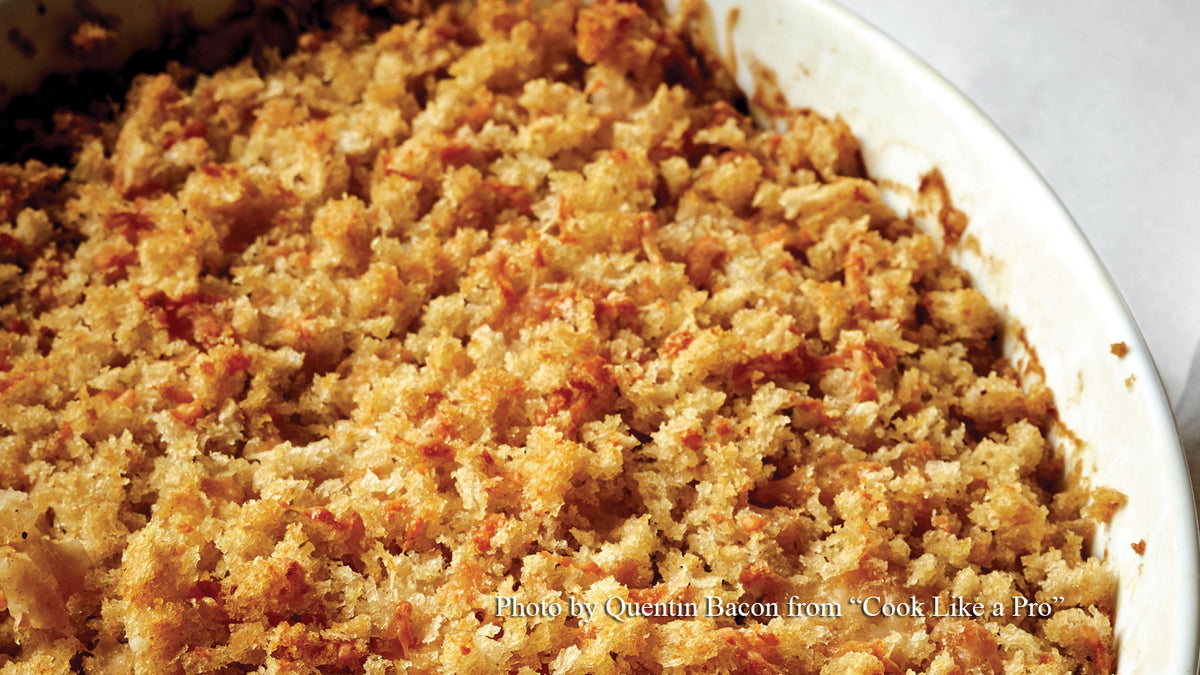 FIRST PUBLISHED NOVEMBER 2018
A fabulous new Thanksgiving recipe from Ina Garten's new cookbook "Cook Like a Pro" (available at Hammertown in 2018).
Note from Ina: "I know I use butternut squash in many of my recipes, but I love it. In the fall, this is an easy dish to dress up a simple roast chicken or pork loin. I cook the squash with garlic and a little nutmeg, then put it in a gratin dish with a topping of crunchy bread crumbs and Gruyère cheese. This is serious comfort food on a cold winter night."
(Serves 6 people)
INGREDIENTS
3 tablespoons unsalted butter divided
Good olive oil
3 cups halved and thinly sliced yellow onions (2 large)
1 tablespoon minced garlic (3 cloves)
2 pounds butternut squash peeled, halved, seeded, and sliced crosswise 1/8 inch thick
1/2 teaspoon ground nutmeg
Kosher salt and freshly ground black pepper
1/2 cup heavy cream
2 cups coarse fresh bread crumbs from a country loaf
1/2 cup grated Gruyère cheese (2 ounces)
DIRECTIONS

1. Preheat the oven to 350 degrees. Use 1 tablespoon of the butter to grease an 8-½ × 11-½-inch oval baking dish.
2. In a large (12-inch) pot or Dutch oven, such as Le Creuset, heat the remaining 2 tablespoons of butter and 1 tablespoon olive oil over medium heat. Add the onions and garlic and cook, stirring occasionally, for 6 to 8 minutes, until tender. Stir in the squash, nutmeg, 2 teaspoons salt, and ¾ teaspoon pepper, cover, and cook for 10 minutes, stirring occasionally.
3. Spoon the squash mixture into the prepared baking dish and smooth the top, making sure all of the squash slices are laid flat. Pour the cream over the mixture. In a medium bowl, combine the bread crumbs and 2 tablespoons olive oil and mix in the Gruyère. Sprinkle evenly over the squash. Bake for 35 to 40 minutes, until the top is browned and the squash is very tender when tested in the center with a small knife. Sprinkle with salt and serve hot.
---
2 comments
---
---