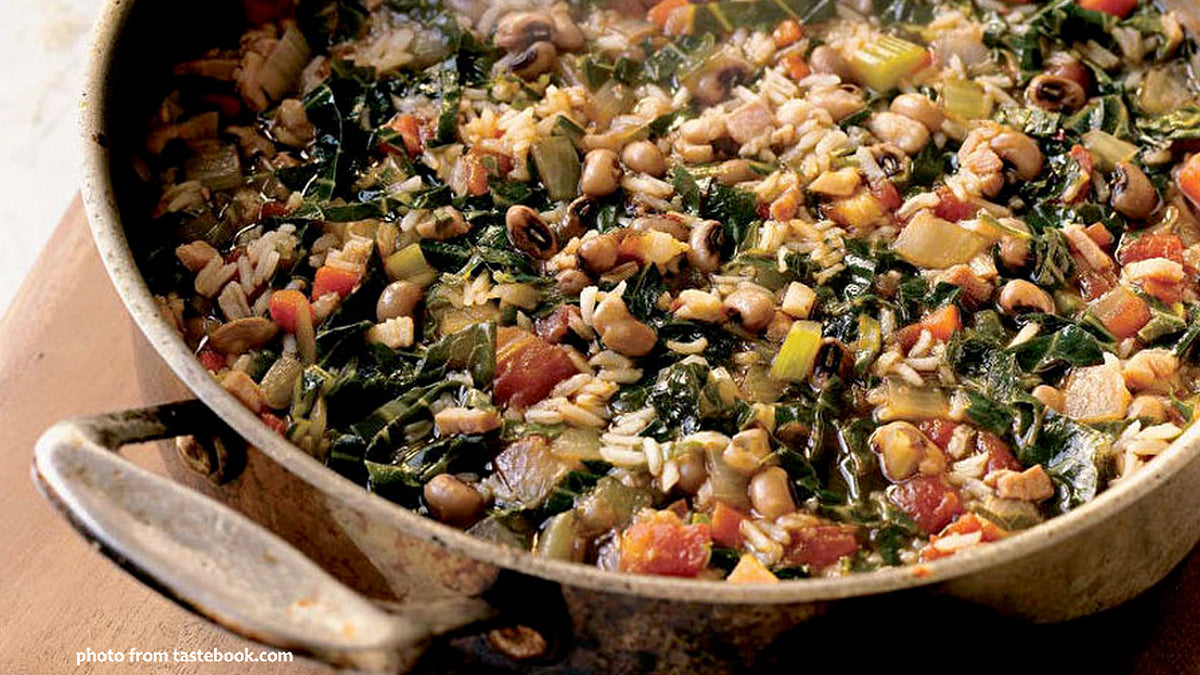 From our archives
December 2016
Hoppin' John is a black-eyed pea and rice dish that's traditionally served on New Year's Day — it is supposed to bring good luck for the upcoming year.  I figure this year, in particular, we can use all the luck we can get.  This soup version of Hoppin' John (from the website tastebook.com) offers a new twist and makes more of a healthy meal rather than just a side dish.  I've substituted kale for the collard greens (both are good!) and used turkey kielbasa in place of the smoked ham steak.  Either way, a bowl of this soup with a salad and/or a chunk of crusty warm bread make a perfect (and healthy) New Year's Day meal.
(Serves 4 to 6)
Ingredients
1 small bunch (about 1 pound) collard greens (or kale, beet greens or swiss chard)
2 tablespoons olive oil
6-8 ounces smoked ham steak, cut into 1/4-inch cubes (or 1/4 inch slices of turkey kielbasa or other smoked sausage)
1 medium onion, chopped
4 cloves garlic, minced
1 medium carrot, chopped
1 stalk celery, chopped
1/4 teaspoon crushed red-pepper flakes (or more if you like things spicy…taste to adjust)
Kosher salt and freshly ground black pepper
6 cups low-sodium chicken broth (I like regular organic chicken broth)
1 dried bay leaf
One 15 1/2-ounce can black-eyed peas, drained and rinsed
One 15-ounce can diced tomatoes, with juices
1 cup cooked long-grain white rice (or any long grain rice)
Dash of hot sauce, preferably Tabasco
Dash of Worcestershire sauce
Parmesan cheese, grated, for topping
Directions:
1.  Remove the stems and center ribs from the greens.  Chiffonade by stacking about six leaves on top of each other, roll into a cigar shape, and slice into thin ribbons.
2.  Heat the olive oil in a large, heavy pot over medium-high heat. When the oil is hot, toss in the ham, onion, garlic, carrot, and celery, and cook, stirring, until the vegetables are tender, roughly 4 minutes. Sprinkle in the red-pepper flakes, and season with salt and pepper. Add the collard greens, and sauté until they begin to soften.
3.  Pour in the chicken broth, the bay leaf, the black-eyed peas, and the can of tomatoes with their juices. Bring to a simmer, and cook for 30 minutes. Stir the rice into the soup to warm. Taste for seasoning, and add more salt and pepper, hot sauce, and Worcestershire sauce.

4.  Spoon into bowls, and sprinkle each bowl with Parmesan cheese.
---