Chicken Breasts with Tomato-Herb Pan Sauce (a summer favorite from our archives)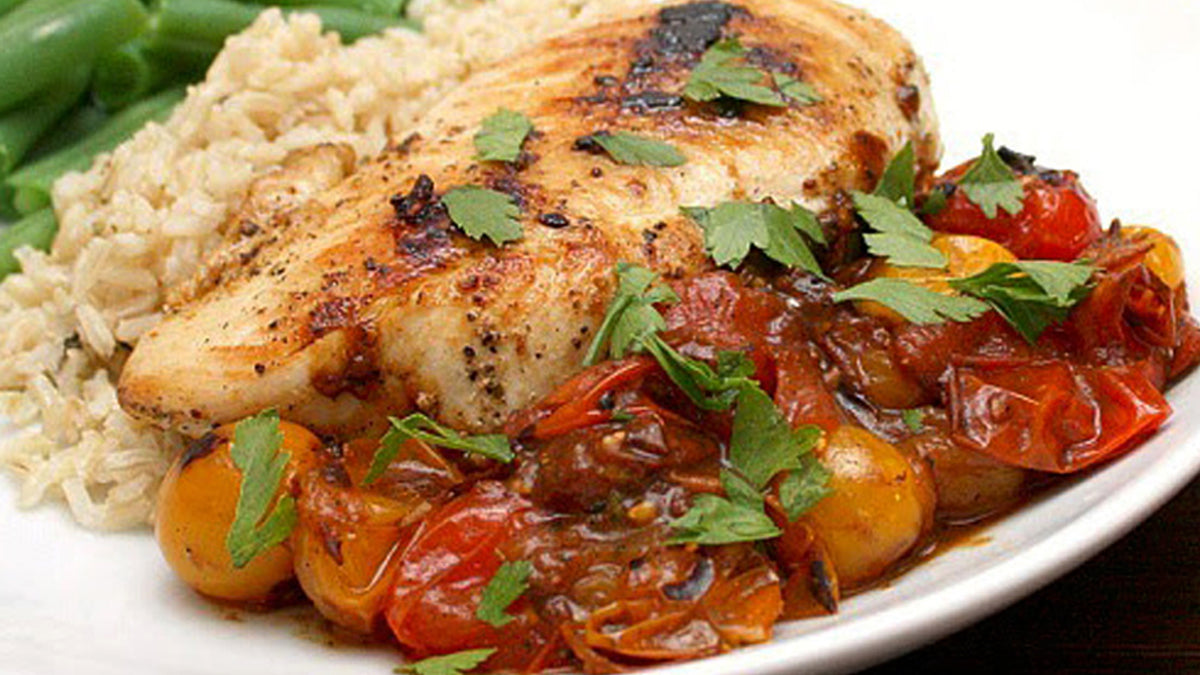 First published August 2012
We have cherry tomatoes coming out of our ears!  Of course, they're great in salads or just pop 'em in your mouth they're so sweet.  But I was looking for a main dish using cherry tomatoes and I found it with this recipe from Bon Appetit (of course!)
I made very few adjustments, like using a few little yellow pear tomatoes and orange Sun Gold tomatoes with the red cherry tomatoes to add more color.  I also deglazed the pan with a little splash (1-2 Tbls) of white wine after browning the chicken before adding the tomatoes. It was fantastic...the chicken was juicy and the sauce, surprisingly rich-tasting and jammy!!
The key to this sauté: Cook the tomatoes with the bits of chicken left over after you've seared it in the pan. When the tomatoes burst, swirl in the remaining marjoram butter to finish the pan sauce.
(serves 2)
Ingredients
2 tablespoons (1/4 stick) unsalted butter, room temperature
1 garlic clove, minced
1 1/2 teaspoons chopped fresh oregano* or marjoram
1/2 teaspoon sweet paprika
Kosher salt and freshly ground black pepper
2 skinless, boneless chicken breasts
2 cups mixed cherry tomatoes (11-12 ounces)
1 tablespoon chopped fresh flat-leaf parsley
*Don't skimp with the fresh oregano...it really makes all the difference in this dish!
Preparation
~ Mash butter, garlic, oregano (or marjoram), and paprika in a small bowl to blend. Season oregano butter to taste with salt and pepper.
~ Melt 1 tablespoon oregano or marjoram butter in a medium heavy skillet (I used my ScanPan) over medium heat. Season chicken with salt and pepper. Add chicken to skillet, cover, and cook until no longer pink in center, about 5 minutes per side depending on thickness of the breasts. Transfer chicken to a plate. Tent chicken with foil to keep warm.
~ Increase heat to high. Add tomatoes to skillet and cook, stirring occasionally, until they begin to char and burst, about 5 minutes (that char is important...it adds a deep richness to the sauce). Add remaining oregano (or marjoram) butter to skillet. Crush tomatoes slightly to release juices; stir 1 minute. Season sauce to taste with salt and pepper. Spoon tomato sauce over chicken OR I add the chicken breasts back to the pan to soak up some of the delicious sauce and keep warm until ready to serve. Garnish with parsley.
NOTE: I like to serve this dish with rice (I use Brown Jasmine Rice) YUMMY!!
---