Chaiwalla's Famous Tomato Pie Recipe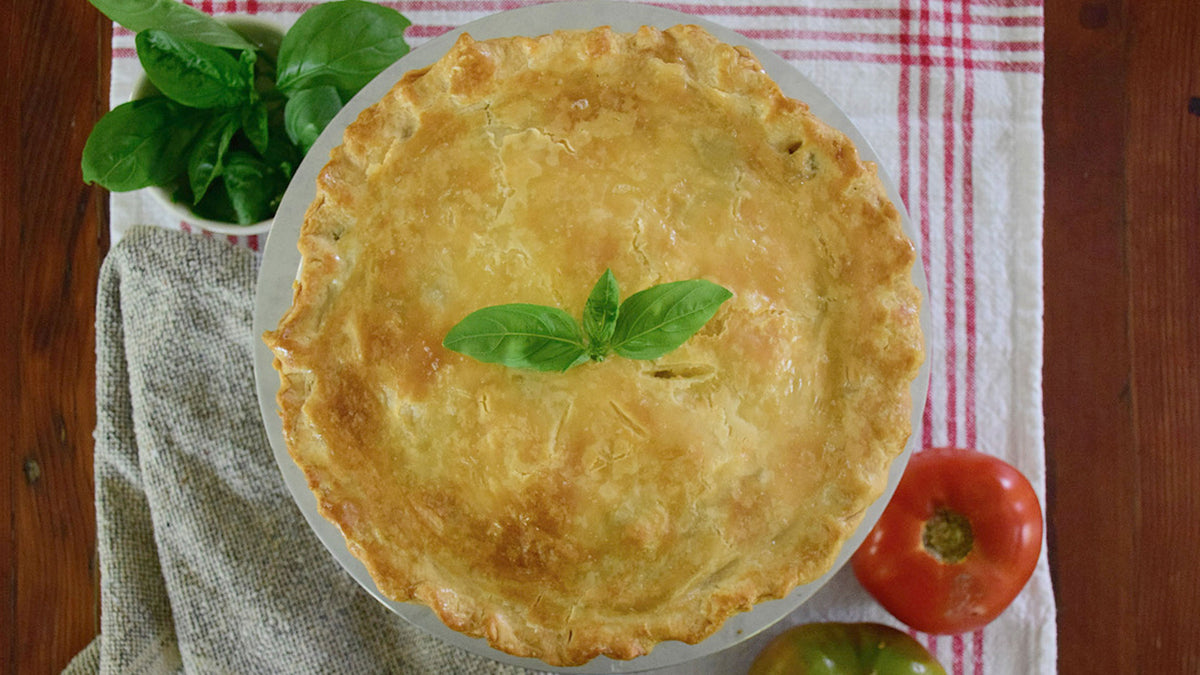 A Summertime Favorite from our archives
Originally posted 9/7/2009
It's that time of year again. Tomatoes are ripe and ready (all at once!) and this is a perfectly delicious way to use them.
Below is the oft-requested famous tomato pie recipe from Chaiwalla Tea House in Salisbury, CT.  (Sadly, in 2018, Chaiwalla closed its doors BUT we still have the recipe to remind us of this wonderful establishment.)
If you enjoy making your own crust, by all means, follow the recipe! If you're short on time, like me, you can also use refrigerated pre-made crusts (like Pillsbury) from the store.  The recipe calls for basil, chives or scallions...I use a whole lot of fresh basil!
Crust
2 c flour
1/2 c butter (1 stick)
4 t baking powder
3/4 c milk (adjust for biscuit-dough consistency)
Mix in food processor or by hand. Divide in half, for bottom and top crusts.
Filling
2 pounds fresh tomatoes, peeled and sliced (or two 28 oz cans plum tomatoes)
Chopped basil, chives, or scallions
1 1/2 c sharp cheddar
1/3 c mayonnaise
2 T lemon juice
Directions:
Roll bottom crust on floured surface and line 9" pie plate.
Fill crust with thinly sliced tomatoes. Sprinkle with chopped herbs. Cover with 1 cup grated cheddar. Mix mayonnaise with lemon juice and drizzle over cheese. Cover with remaining with 1/2 cup cheddar.
Roll out remaining crust. Cover pie and pinch the edges to seal. Cut steam vents.
Bake at 400 deg. for about 25 minutes. If not serving directly from the oven, re-heat before serving to melt the cheese.
---