Carrot & Chickpea Salad (from Food & Wine)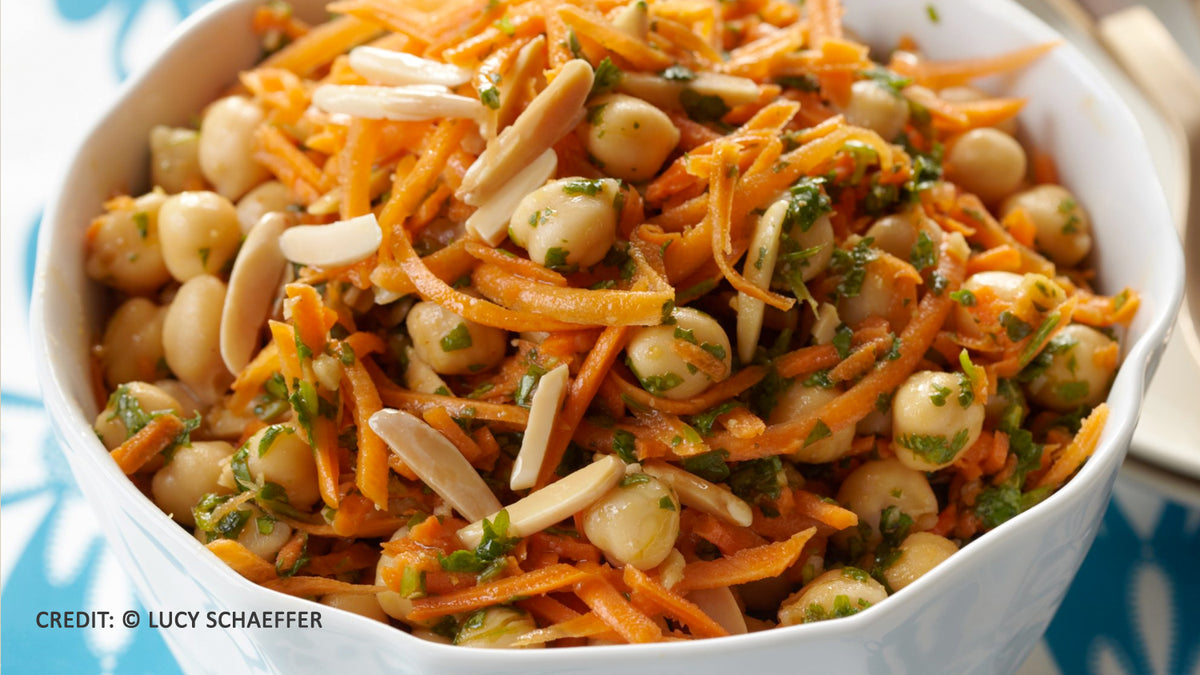 I am so excited to try this recipe from Food & Wine by Chef Charles Kelsey (of Cutty's in Brookline, MA) because I have every ingredient in my cupboard or fridge right now! I'm always on the lookout for a new make-ahead salad for Tanglewood picnics and this just might fit the bill. (CLICK HERE to access this recipe on Food & Wine's website)

Chef Charles Kelsey of Cutty's in Brookline, Massachusetts, tosses chickpeas and carrots with a deliciously unusual combination of smoked paprika, cumin and cilantro. 
INGREDIENTS
2 tablespoons fresh lemon juice
1 garlic clove, minced
2 tablespoons vegetable oil
1/2 cup slivered almonds
2 packed cups cilantro leaves and stems
1 teaspoon ground cumin
1 teaspoon sweet smoked paprika
1/4 teaspoon cayenne pepper
1/2 cup extra-virgin olive oil
Kosher salt and freshly ground pepper
Two 15-ounce cans chickpeas, drained and rinsed
1 pound carrots, peeled and coarsely shredded
DIRECTIONS
Step One
In a food processor, combine the lemon juice with the minced garlic and let stand for 15 minutes. In a large skillet, heat the vegetable oil. Add the almonds and toast over moderate heat, stirring, until golden, about 5 minutes. Drain the toasted almonds on paper towels and let cool.
Step Two
Transfer half of the almonds to the food processor. Add the cilantro, cumin, smoked paprika and cayenne pepper and pulse until chopped. Add the olive oil and process to a chunky paste. Season with salt and pepper; transfer to a large bowl. Add the chickpeas and carrots and toss. Garnish with the remaining almonds and serve.
MAKE AHEAD
The carrot salad can be refrigerated overnight. Garnish with the toasted almonds just before serving.
---