Blueberry Spelt Muffins (by Roxana Jullapat)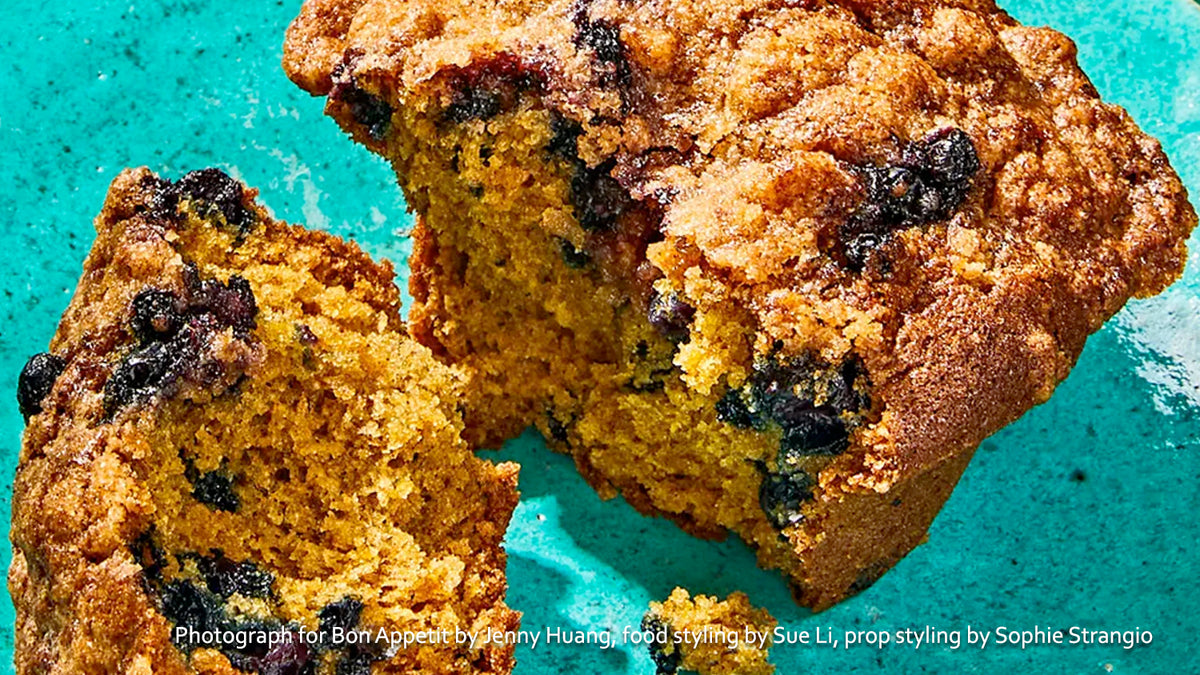 CLICK HERE to go directly to the recipe on Bon Appetit
This recipe if from Roxanna Jullapat's cookbook "Mother Grains".
Don't worry about having to wait until July for fresh picked blueberries. Jullapat prefers to use frozen blueberries because the fruit doesn't get smashed while mixing the batter.
INGREDIENTS:
Nonstick vegetable oil spray (optional)
3 Tbsp. spelt flour
2 Tbsp. granulated sugar
2 tsp. dark brown sugar
Pinch of ground cinnamon
2 Tbsp. chilled unsalted butter, cut into ½" pieces
1½ cups (195 g) spelt flour
1 tsp. baking powder
½ tsp. baking soda
¼ tsp. ground cinnamon
¼ tsp. kosher salt
1 large egg
⅔ cup (packed; 133 g) dark brown sugar
⅓ cup vegetable oil
⅓ cup buttermilk
Zest of 1 lemon
½ cup (85 g) fresh or frozen blueberries
PREPARATION
STREUSEL
Step 1
Place a rack in middle of oven; preheat to 350°. Lightly coat a standard 12-cup muffin pan with nonstick spray or line with paper liners. Whisk spelt flour, granulated sugar, brown sugar, and cinnamon in a medium bowl. Add butter and toss to coat. Working quickly, smash in butter with your fingers until pieces are about pea-size. Chill streusel until ready to use.
MUFFINS
Step 2
Whisk spelt flour, baking powder, baking soda, cinnamon, and salt in a medium bowl until there are no lumps. Make a well in the center with your hands. Whisk egg, brown sugar, oil, buttermilk, and lemon zest in a small bowl. Pour into well and whisk to combine. Using a rubber spatula, gently fold in blueberries. Evenly divide batter among 8–10 muffin cups, filling each with about ¼ cup batter. Top each muffin with about 1 Tbsp. streusel; bake, rotating pan halfway through, until golden brown and a tester inserted into the center of a muffin comes out clean, 24–27 minutes. Let muffins cool in pan 20 minutes. Turn out onto a wire rack; let cool completely.
Do ahead: Muffins can be baked 2 days ahead. Store airtight at room temperature
---