Spring Vegetable & Bean Soup from Jamie Oliver (an oldie but goodie from our archives)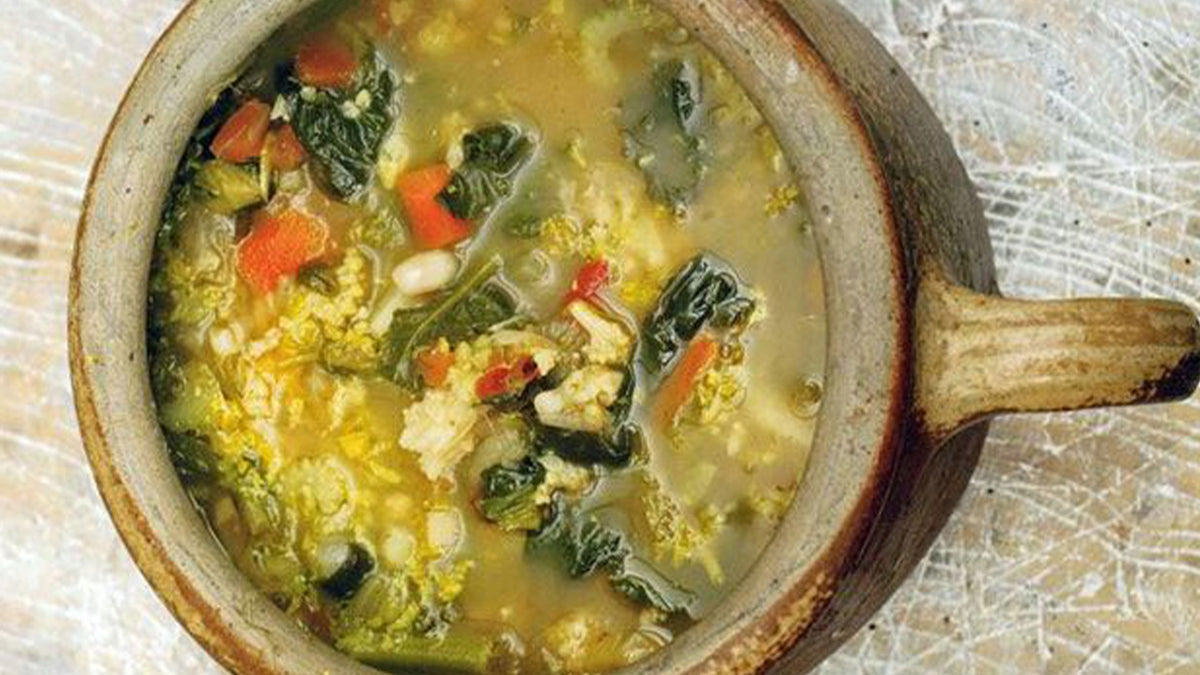 This is one of the most popular recipes in our archive. We first shared it on April 7 2010.
Here's Joan's original post:
This recipe is from Jamie Oliver's book, "Jamie's Food Revolution: Rediscover How to Cook Simple, Delicious, Affordable Meals". This young chef is on a real mission with this book as well as his new TV show, "Jamie Oliver's Food Revolution". It's all about learning to change the poor eating habits so many Americans (especially children) have in our country today. I've become a big fan.
I picked this recipe because it's easy, healthy and seasonal.
This is a lovely soup - very simple and traditional. If you want to give it an Italian vibe, simply add a can of diced tomatoes, the torn leaves from a few sprigs of fresh basil, and some broken spaghetti- delicious!
Ingredients:
2 carrots
2 celery stalks
2 medium onions
2 cloves of garlic
1-3/4 quarts chicken or vegetable broth, preferably organic
Olive oil
1 - 15 ounce can of cannellini beans
2 cups cauliflower
2 cups broccoli
7 cups spinach leaves (7 ounces)
2 large ripe tomatoes
sea salt and freshly ground black pepper
extra virgin olive oil
Directions:
1. Peel and roughly slice the carrots; slice the celery. Peel and roughly chop the onions. Peel and slice the garlic.
2. Put the broth in a saucepan and heat until boiling. Put a large saucepan on medium heat and add 2 TBL of olive oil. Add all your chopped and sliced ingredients and mix together with a wooden spoon. Cook for around 12 minutes, with the lid askew, until the carrots have softened but are still holding their shape, and the onion is lightly golden.
3. Meanwhile, drain your beans. Break up the cauliflower and broccoli into small florets. Roughly chop the spinach. Quarter the tomatoes, removing any stalks.
4. Add the boiling broth to the vegetables in the pan. Add your cannellini beans, cauliflower, broccoli and quartered tomatoes. Give the soup a good stir, and bring to a boil. Reduce the heat and simmer for 10 minutes, or slightly more.
To Serve Your Soup:
1. Add the spinach to the pan and cook for a further 30 seconds, then remove the pan from the heat. If you like your soup a little less chunky, you can take out half of it, blend it (using our favorite tool, the immersion blender) then stir it back into the pan. (If using an immersion blender, there's no need to take out the soup for blending and returning to the pot.)
2. Season carefully with salt and pepper. Ladle the soup into serving bowls and finish with a drizzle of extra virgin olive oil.
Serves 6 to 8
Ideas from Jamie: PIMP UP YOUR SOUP
Try grilling, toasting or baking chunky croutons or slices of ciabatta bread
Tear in soft fresh herbs like basil, parsley and mint
All sorts of different cheeses can be crumbled and grated over, or stirred in
Try a nice dollop of creme fraiche or sour cream
---