Spanish Chocolate Olive Oil Cake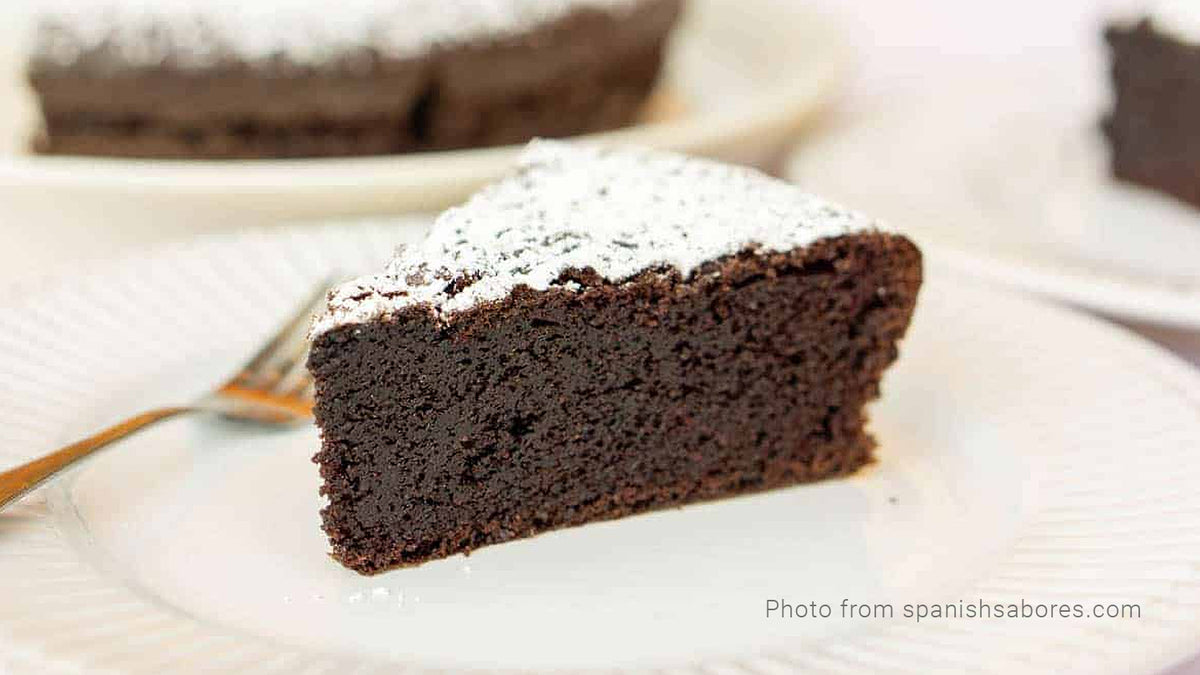 You can access this delicious recipe by Lauren Alois (with more preparation details and photos), directly on her website Spanish Sabores.
Ingredients
⅔

cup

all-purpose flour

(80 g)

¼

cup

almond flour

(30 g) note: this is the same as almond meal or finely ground raw almonds

¾

cup

sugar

(150 g)

⅓

cup

cocoa powder

(40 g) note: use Dutch process cocoa powder

1

tsp

baking soda

(5 g)

½

tsp

baking powder

(2.5 g)

½

tsp

salt

(2.5 g)

1

egg

1

egg yolk

½

cup

Greek yogurt

(120 ml) note: full fat

½

cup

strong black coffee

(120 ml)

¼

cup

extra virgin olive oil

(60 ml)

1

tsp

vanilla extract

(5 ml)

powdered sugar

(optional) to top the cake before serving


Instructions
Preheat the oven to 350°F (175°C). Prepare an 8-inch round cake pan by greasing the bottom with butter, and then placing a round cut out of parchment paper on the bottom. Grease the parchment and the sides of the pan, then sprinkle with flour. Tap out any excess flour and put aside for when the batter is ready.



In a large bowl combine all of the dry ingredients (flour, almond flour, sugar, cocoa powder, baking soda, baking powder, and salt). Mix well.



In another bowl combine the wet ingredients (egg, egg yolk, Greek yogurt, olive oil, vanilla, and hot coffee). Whisk well.



Add the wet ingredients to the bowl of dry ingredients, and mix well (using an electric mixer if possible). Mix on medium for a couple of minutes, scraping down the sides if necessary.



Pour the chocolate olive oil cake batter into the prepared pan and place in the oven on the center rack for 25-35 minutes. Check at 25 minutes and remove once a toothpick inserted in the center of the cake comes out clean. In my oven the perfect bake time is exactly 32 minutes!



Cool for about 15 minutes in the pan, then slowly remove onto a wire cooling rack. Enjoy dusted with powdered sugar.
Notes


Yield: This recipe is for one 8-inch pan. Double or triple to make a larger cake.


Common substitutions include:

Flour: I use a mix of all-purpose and almond flour (also called almond meal or ground almonds). This gives the cake the perfect texture for me — not too light and not too dense. But you can use 100% all-purpose (or cake flour) if you prefer. If you increase the amount of almond flour, the cake may become denser.
Yogurt: Greek yogurt helps give this chocolate olive oil cake its signature moistness. You could substitute buttermilk.
Coffee: Using a piping hot cup of strong coffee makes this cake extra delicious, but if you prefer to skip coffee here, just use hot water.



Olive Oil: Note that this delicious chocolate olive oil cake is so delicious thanks to using good quality extra virgin olive oil. Read this article to find out why extra virgin is what you should be using. If you are like me and want a strong olive oil taste, use a flavorful oil. I like using fruity arbequina olive oil here. If you do not want to taste the olive oil, use a mild oil, such as a more standard blend.


Serving Suggestions: Serve with powdered sugar, fresh whipped cream, berries, or even stuffed with jam. I don't frost this cake, but a light layer of cream cheese frosting would be yummy.


Storage: Store on the counter at room temperature for up to four days. In the fridge, it lasts a week. And in the freezer (well wrapped in plastic wrap and foil) it keeps for a few months. 



---