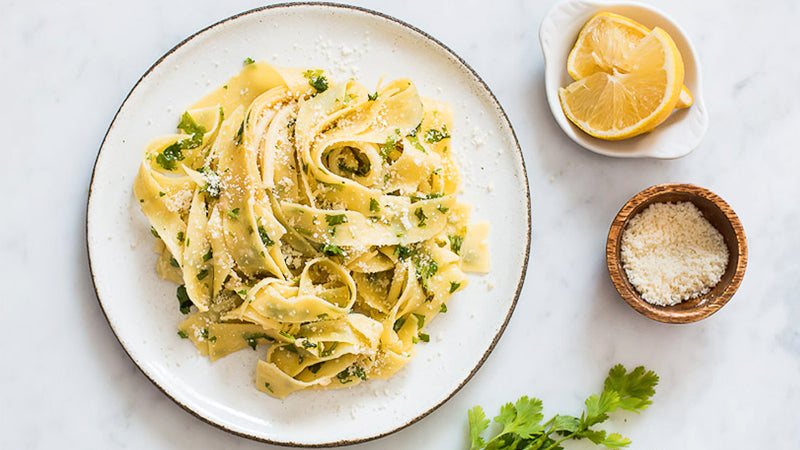 Yes...yes...I know it sounds wrong...but this recipe is SO RIGHT! I had a bunch of cilantro growing in our veggie garden that was about to bolt and I wondered if there was a way to use it--maybe in pasta? Well, a quick Google search (using the ingredients I had in mind) lead me to a website called
Pretty.Simple.Sweet.
I still really wasn't sold on the idea but I thought "why not try it?" Well...this dish is now on my "go-to" recipe list. It was fantastic! The subtle lemon component with the cilantro created a truly delicious, refreshing summer pasta dish.
Ingredients
450

g/1 pound pasta

(fettuccine or spaghetti are recommended)

Salt

6

tablespoons

extra-virgin olive oil

6

large cloves garlic

, finely chopped

2

teaspoons

freshly squeezed lemon juice

Grated zest from 1/2 small lemon

1/2

cup

minced fresh cilantro

1/2

– 1 cup grated Parmesan cheese
Instructions
To make the pasta: In a large pot, bring 4 quarts/liters of water to a boil. Add 1 tablespoon salt, followed by the pasta. Cook until al dente (i.e., slightly firm to the bite, not crunchy nor soft). Reserve 1 cup of pasta cooking water, and drain the pasta.



As the pasta boils,

make the sauce:

In a large skillet (large enough to accommodate the pasta),

heat oil over

medium

heat

(this is important...it should not be really hot). Add garlic and cook until fragrant and tender, stirring occasionally, 2-3 minutes.

CAREFULLY & SLOWLY

add the reserved pasta cooking water in a VERY slow stream (adding water to very hot oil can be dangerous), and simmer until water has reduced by about a third, about 5 minutes. Lower the heat and stir in 1/2 teaspoon table salt, lemon juice, lemon zest, and cooked pasta, and toss. Remove from heat and stir in cilantro and Parmesan (start with ½ cup and add more as you wish).

Serve immediately.



Leftovers can be kept in the fridge for 3 days.
CLICK HERE to see the original recipe on Pretty. Simple. Sweet.
---