Leftover Turkey & Wild Rice Soup (from our archives)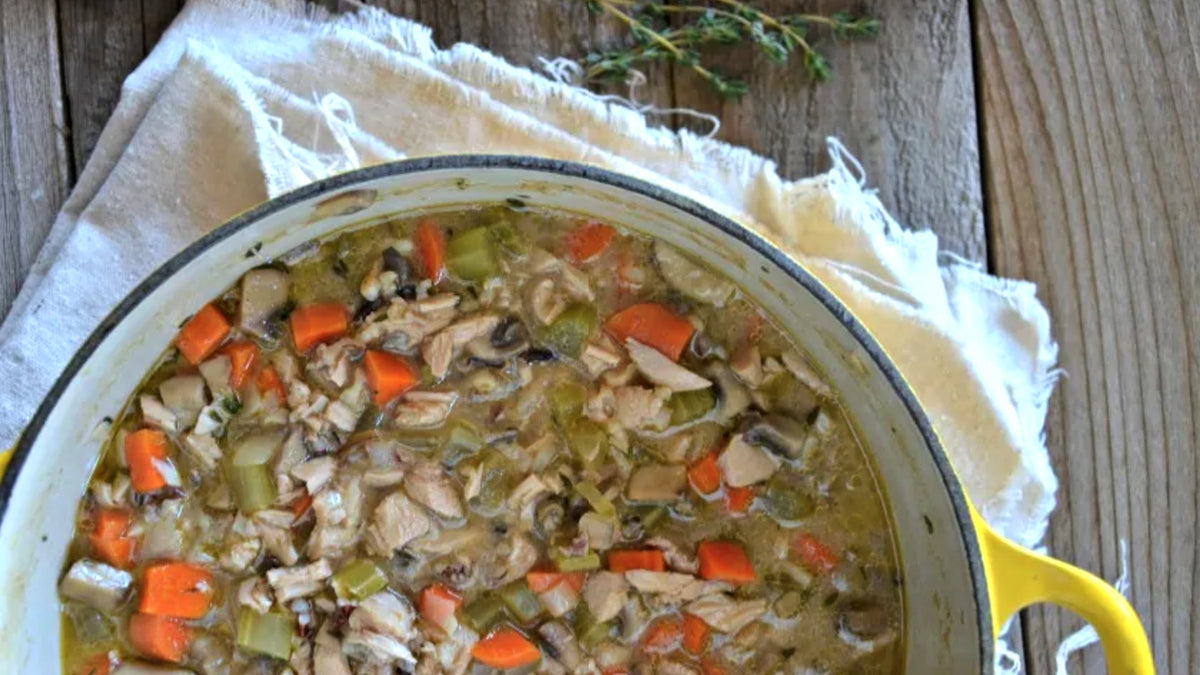 First published March 2017
I've made this recipe I found on MountainMamaCooks.com a few times since I found it a year or so ago.  In fact, I just made it a couple weeks ago and it was SOOO good.  I thought this chilly weekend would be a good time to share it with everyone.  Don't let "leftover turkey" scare you out of it.  I often buy pre-roasted turkey breasts, where you find those roasted whole chickens, at larger supermarkets (Hannaford's or Stop N Shop).  It's just the breast only and they're delicious and great to have on hand for all kinds of things INCLUDING this soup.  I imagine you could also use a pre-roasted chicken as well but there's just something about turkey with wild rice that does it for me.
Anyway...here it is.  Hope you enjoy it.



INGREDIENTS:
3 tablespoons butter
3 tablespoons olive oil
3/4 cup chopped onion*
3/4 cup chopped carrot*
3/4 cup chopped celery
6 - 8 oz mushrooms, diced
2 cloves garlic
4 tablespoons flour
4 cups turkey stock (or chicken stock)
1 tablespoon soy sauce
1 bay leaf
1/4 dry sherry (optional...I add this)
1/2 cup wild rice (uncooked)
2 1/2 cups chopped leftover turkey
1/4 cup half and half
1 tablespoon chopped, fresh thyme
1/2 teaspoon kosher salt
1/2 teaspoon ground black pepper

*this is 1/4 cup more than the recipes calls for.

DIRECTIONS:
1. In a large stock pot, melt the butter and olive oil over medium heat.
2. Add the onion, carrot and celery and cook about 10 minutes until onions are soft and translucent.
3. Add the mushrooms and garlic and cook about 5 minutes more.
Add the flour and cook, stirring often, for 3-4 minutes until flour is brown and cooked through.
4. Add the turkey stock, soy sauce, (sherry if using) and bay leaf. Stir to break up any flour bits. Turn the heat up to medium-high and bring soup to a boil. Turn heat back down to medium and let simmer for 30 minutes.
5. Add wild rice and simmer for 35 minutes.
6. Add turkey, milk, thyme, salt and pepper. Cook for 20 minutes more.
Serve soup in large bowls and garnish with extra thyme if desired.
---