Erin French's Summer Berries with Ginger-Cream Shortcakes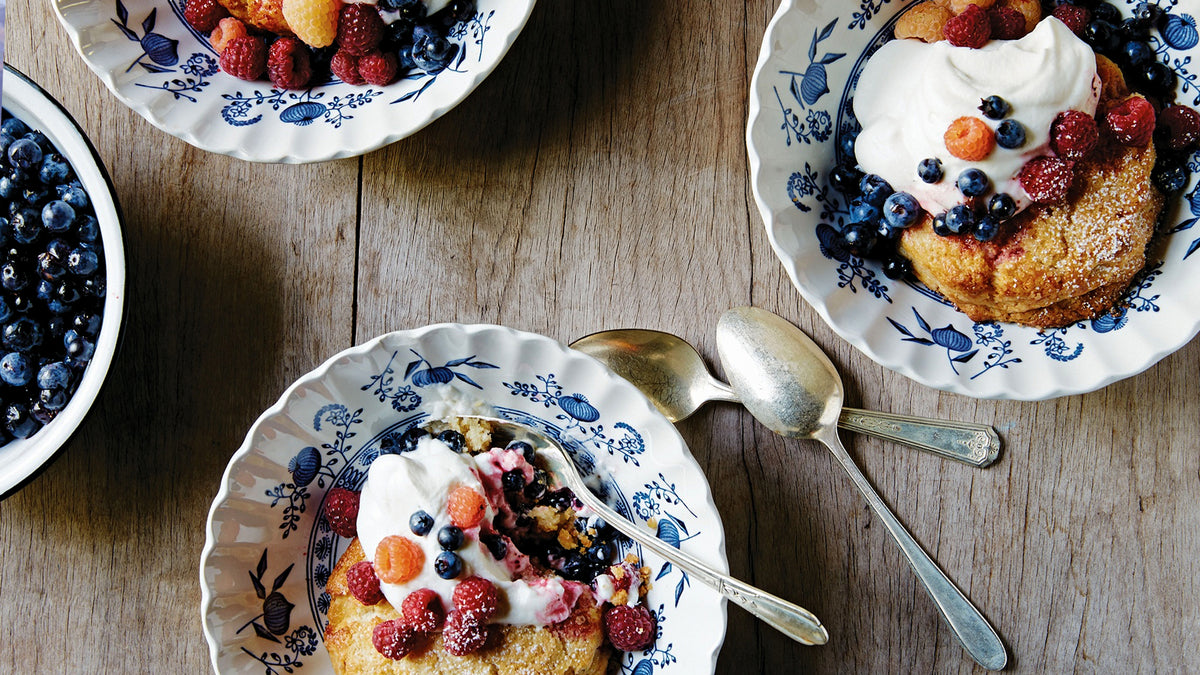 This recipe from Erin French's "The Lost Kitchen: Recipes and a Good Life Found in Freedom, Maine" (buy online here) simply screams SUMMER. From her book:
"There's a brief moment in summer, smack-dab in the middle of the season, when you can get all these berries at once: strawberries, raspberries, blackberries, and blueberries. And when that happens, you don't mess with their magical perfection. I love them heaped on these scone-like shortcakes with some fresh whipped cream, but in a pinch, skip the shortcakes and enjoy the berries and cream by the bowlful."

(serves 8)
For the Shortcakes

Ingredients
2 1/4 cups all-purpose flour, plus more for shaping the dough
1/3 cup granulated sugar
1 tablespoon baking powder
Grated zest of 1 lemon
12 tablespoons (1 1/2 sticks) unsalted butter, cold, cut into tablespoon-sized pieces
1/3 cup chopped candied ginger
2 teaspoons vanilla extract
1 cup heavy cream
1/4 cup raw sugar
Instructions


Preheat the oven to 375°F. Line a baking sheet with parchment.

In a food processor, combine the flour, granulated sugar, baking powder, and lemon zest. Add the butter and pulse until the butter is incorporated and the mixture resembles a coarse meal. Transfer to a large bowl. Using a wooden spoon, mix in the candied ginger, vanilla, and ¾ cup of the heavy cream until just barely combined.

Turn the dough onto a lightly floured surface and form it into a log about 10 inches long and 2 inches wide. Using a knife, slice the dough into 8 circles and put them on the lined baking sheet. Brush the shortcakes with the remaining ¼ cup cream and sprinkle with the raw sugar.

Bake until the shortcakes are light golden, 15 to 18 minutes. Allow them to cool on the baking sheet, then halve them horizontally as though opening a biscuit and divide the bottoms among 8 plates.

While the shortcakes bake, make the filling.
Ingredients:
1 pint heavy cream
2 teaspoons vanilla extract
1 tablespoon confectioners' sugar, plus more for serving
1/2 pint strawberries, sliced
1/2 pint raspberries
1/2 pint blueberries
1/2 pint blackberries
Mint sprigs, for garnish (optional)


Instructions:
Using a whisk, hand mixer, or stand mixer fitted with the whisk attachment, whip the cream until soft peaks form. Add the vanilla and confectioners' sugar and mix until just combined.

Spoon a heaping dollop of whipped cream over the bottom half of each scone. Top with a mixture of the berries and another dollop of cream. Top with the other half of the shortcakes, then sprinkle with confectioners' sugar, garnish with mint sprigs, if desired, and serve.
---
1 comment
---
---