Dry-Brined Turkey (from our archives)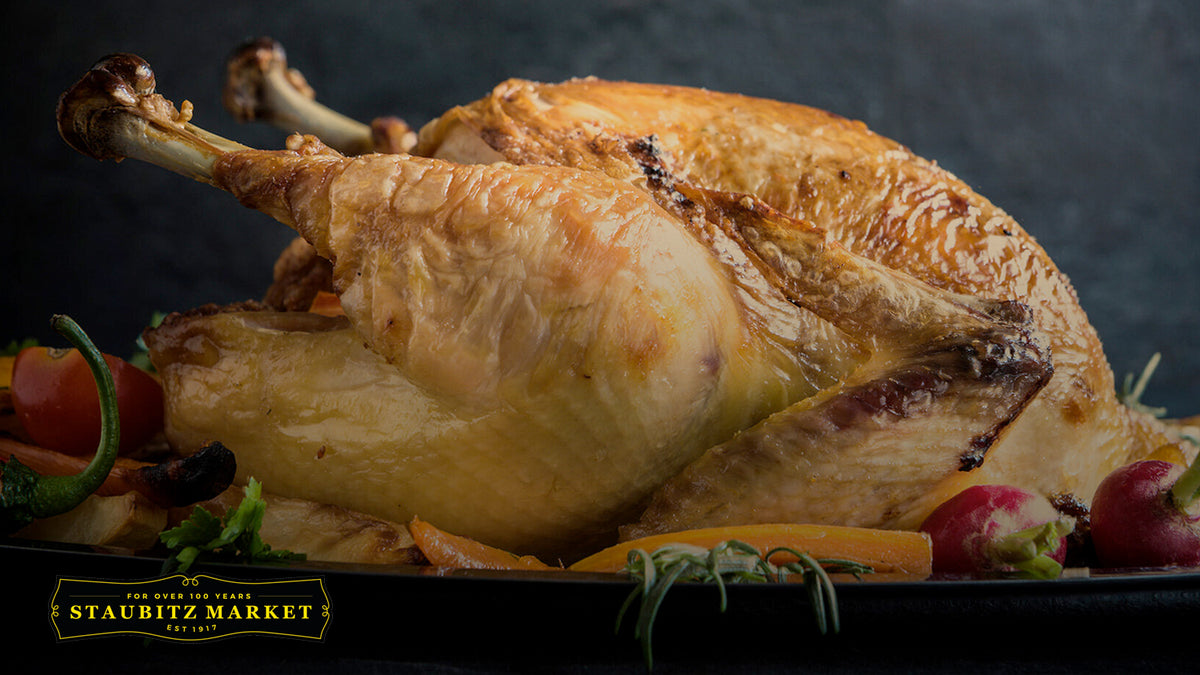 FROM OUR ARCHIVES (November 2010)
I'd never heard of a dry-brined turkey but it's how I'm making my turkey this year. 
This recipe comes from our incredible Turkey 101 Class last Sunday. The amazing butcher, John McFadden (below), proprietor of Staubitz Market in Cobble Hill and his wife, Christine Kim, roasted 3 turkeys prepared in 3 different ways. 
Regular Roasting; Wet Brined and Dry-Brined. The Dry-Brined was the most popular with everyone in the class so we're sharing it with all of you here.
IMPORTANT NOTE: Dry Brining a turkey takes 4 days!
Dry Brine Recipe:
1 Fresh Natural Turkey (not Butterball or other turkeys that have butter or oil injected into them)
Kosher Salt - 1 Tbsp of Salt (kosher preferred) per 5 lbs of Turkey.
Directions:.
Remove giblets, liver, neck and all that other stuff from inside the cavity of the turkey.  (You can boil these and use the water and meat in gravy later if you wish)
Rub the salt all over the turkey concentrating more salt on the thickest pieces of meat (breasts and thighs).
Loosely bag the turkey and tie the ends and refrigerate.
Leave the salted turkey in the bag for 3 days. On the fourth day remove turkey from bag and air dry for 1 full day refrigerated.
When taking the turkey out of the bag you will notice that all the salt has been absorbed and turkey may be slightly blue in color.  That's okay.  Also during salting process the turkey may look a little black and blue. That's normal too.
Preheat oven to 450 degrees
Melt 1 stick of butter and generously brush the turkey all over with melted butter.
Place turkey breast side down and roast for 30 minutes. After 30 minutes, turn down the oven temperature to 325 degrees and turn the turkey breast side up.
Cook until thermometer reads 162 degrees (about 2 1/2 hrs. total for a 14-16 lb turkey). If stuffing the turkey you'll need to add more time.
Check temperature starting at 40 minutes before it should be done. Do not baste turkey and do not open the oven door until you check internal temperature.
---