Dijon and Cognac Beef Stew by Regina Schrambling (from our archives)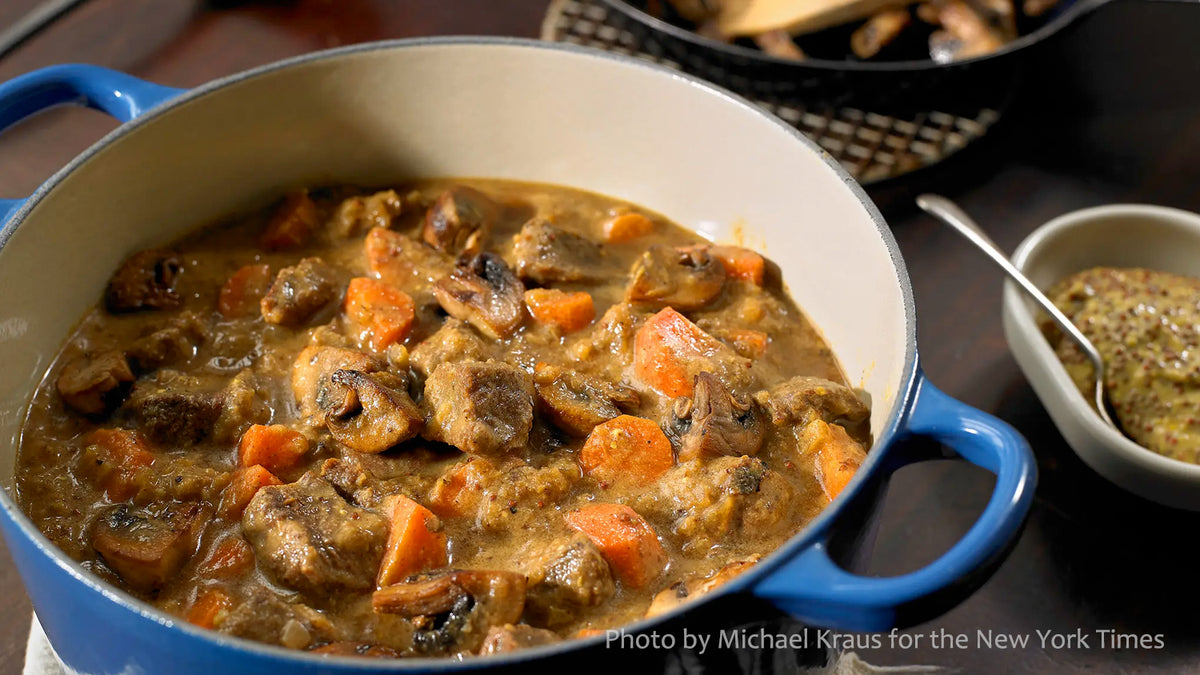 From our archives
First posted March 2016
I saw this Dijon & Cognac Beef Stew on the NYT Cooking site and thought it sounded like the perfect comfort food for a cold and damp day.  It was fantastic — deep, rich flavors and very filling. I'll be adding it to my "go-to" list of comfort food recipes. I made it pretty much as the recipe instructed. I was unable to find the *French mustard they specified and substituted with a Grey Poupon Grainy Country mustard. Taste as you go and adjust to your own preferences.
This one, while complex in flavor, is not difficult to prepare, but it cannot be rushed. Make it when you have the time to indulge in the meditative qualities of chopping, sautéing, reducing, braising, waiting and tasting. You will be rewarded with an exceptionally flavorful dish that is just as satisfying to eat as it was to cook. – NY Times
About 3 hours
Yields 4 - 6 servings
INGREDIENTS:
¼ pound salt pork, diced (I used 2 slices of thick bacon)
1 large onion, finely diced
3 shallots, chopped
2 to 4 tablespoons butter, as needed
2 pounds beef chuck, in 1-inch cubes
2 tablespoons flour
Salt and freshly ground black pepper
4 tablespoons butter, as needed
½ cup Cognac
2 cups beef stock
½ cup Dijon mustard
4 tablespoons Pommery mustard* (I substituted Grey Poupon Country Dijon mustard)
4 large carrots, peeled and cut into half-moon slices
½ pound mushrooms, stemmed, cleaned and quartered
¼ cup red wine
DIRECTIONS:
1) Place salt pork in a Dutch oven or a large heavy kettle over low heat, and cook until fat is rendered. Remove solid pieces with a slotted spoon, and discard. Raise heat, and add onion and shallots. Cook until softened but not browned, 10 to 15 minutes. Use a slotted spoon to transfer to a large bowl.
2) If necessary, add 2 tablespoons butter to the pan to augment fat. Dust beef cubes with flour, and season with salt and pepper. Shake off excess flour, and place half the cubes in the pan. Cook over medium-high heat until well browned, almost crusty, on all sides, then transfer to a bowl with onions. Repeat with remaining beef.
3) Add Cognac to the empty pan, and cook, stirring, until the bottom is deglazed and the crust comes loose. Add stock, Dijon mustard and 1 tablespoon Pommery mustard. Whisk to blend, then return meat and onion mixture to pan. Lower heat, cover pan partway, and simmer gently until meat is very tender, about 1 1/2 hours.
4) Add carrots, and continue simmering for 30 minutes, or until slices are tender. As they cook, heat 2 tablespoons butter in medium skillet over medium-high heat, and sauté mushrooms until browned and tender.
5) Stir mushrooms into stew along with remaining mustard* (I didn't add more mustard at this point) and red wine. Simmer 5 minutes, then taste, and adjust seasoning. Serve hot.
I served with some crusty bread and an arugula and mixed greens salad.  With left-over stew…served over whole wheat egg noodles…also delicious!
---