Citrus-Glazed Pork Chops with Watercress (from Bon Appétit)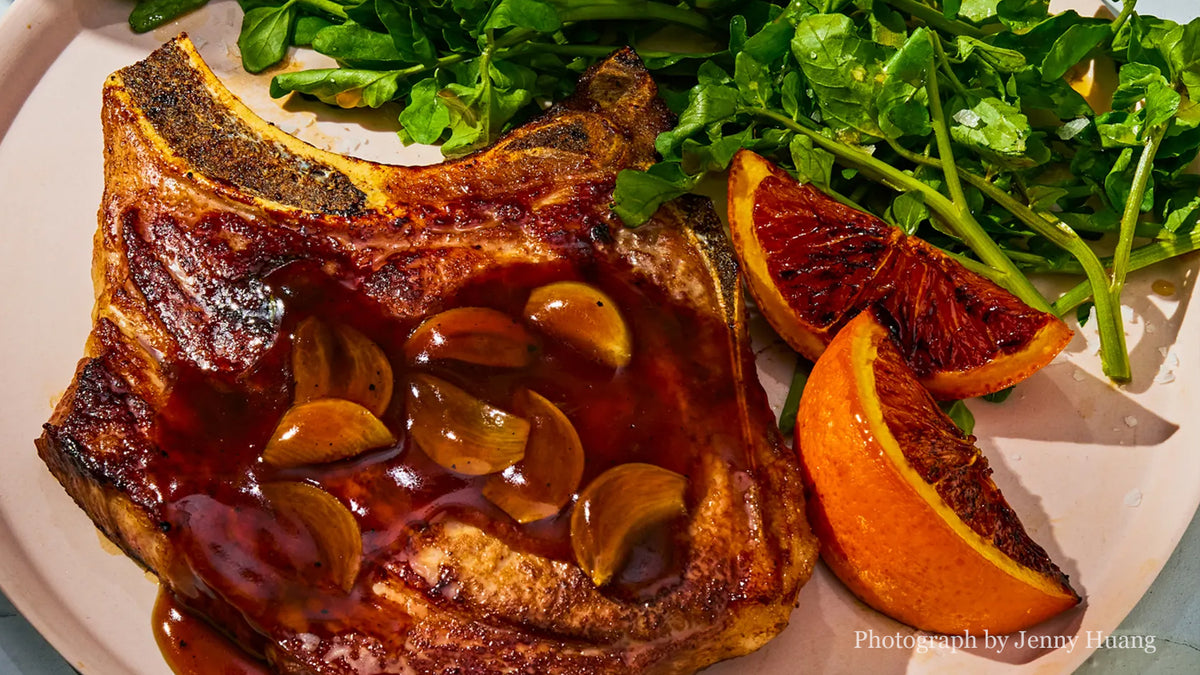 This recipe from
Bon App

é

tit
sounds perfect for a chilly January evening.The citrus in this recipe are lemons and Cara Cara oranges (sweet reddish-pink winter oranges). The sprinkling of salt and brown sugar on the meat before browning "intensifies the sear on these pork chops". 
CLICK HERE to access on Bon Appétit's website.
INGREDIENTS
2 Tbsp

light brown sugar

1 tbsp

Diamond Crystal or 1 3/4 tsp Morton kosher salt, plus more

4 1

"-thick bone-in pork rib chops

3

Cara Cara or navel oranges, cut into 4 wedges each
2 Tbsp. vegetable oil

2

lemons, halved crosswise, seeds removed

6

garlic cloves, thinly sliced
1/2 cup mirin
1/2 cup oyster sauce

4 oz

watercress, trimmed (about 4 cups)
DIRECTIONS
     Mix brown sugar and 1 Tbsp. Diamond Crystal or 1-3/4 tsp. Morton kosher salt in a small bowl to combine; sprinkle over pork chops on both sides.
     Heat 1 Tbsp. oil in a large skillet over medium-high. Working in 2 batches and adding remaining 1Tbsp. oil between batches, cook pork chops, undisturbed, until well browned underneath, about 5 minutes. Turn pork chops over and cook until browned on other side and cooked through, about 4 minutes. Transfer pork chops to plates and let rest at least 10 minutes.
     While the pork chops are resting arrange oranges and lemons, cut side down, in same skillet (do not wipe out) and cook, undisturbed, over medium-high heat until lightly charred, about 3 minutes. Transfer lemons to a plate. Turn oranges over and cook until lightly charred on other side, about 3 minutes; transfer to same plate.
     Reduce heat to low and add garlic to skillet. Cook, stirring, until fragrant, about 1 minute. Pour in mirin and oyster sauce and squeeze in juice from 4 orange wedges and 2 lemon halves. Bring to a simmer, stirring and scraping up browned bits with a wooden spoon, and cook until sauce is slightly thickened, about 3 minutes. Remove from heat.
     Toss watercress and juice from 4 orange wedges and remaining 2 lemon halves in a large bowl; season with salt.
     Drizzle sauce over pork chops. Divide watercress and remaining 4 orange wedges alongside chops.
---