Grilled Carne Asada (Skirt Steak) with Chimichurri Sauce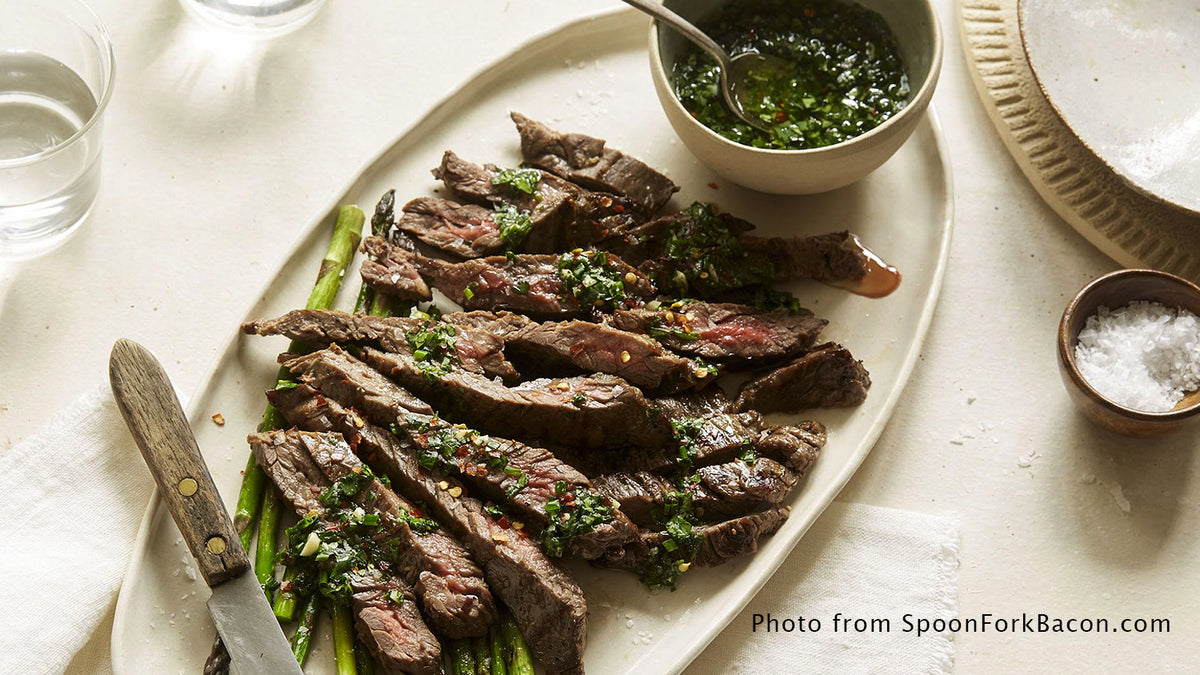 We made this recipe recently while on vacation in Mexico.  We had a grill and lots of fresh cilantro on hand. We adapted/combined two recipes. One from BraziilianKitchen.com and another from Delish.com. Both included some ingredients we didn't have on hand so we substituted or eliminated. For example, we didn't have red onions or red wine vinegar and substituted sour orange* juice, along with extra lime juice for the acidity factor. It was still delicious!
For the Cilantro Chimichurri
(toss ingredients below in a blender or food processor)
2

cups

of fresh cilantro (stems and leaves)

about 1 large or 2 small bunches

3

cloves

of garlic

peeled

1/4

of a small red onion, peeled and cut into chunks

you can use a shallot for a less strong onion flavor (WE OMITTED)


2

tsp

red pepper flakes

2

tsp

of dried oregano

2

tbsp

red wine vinegar (OMITTED - we instead added lime juice and zest from a one lime and the flesh and juice from half a sour orange*)


2/3

cup

olive oil (divided)


Salt and pepper to taste

Directions:
Pulse to finely mince the ingredients then add remaining 1/3 cup of oil and lightly blend.

Pour the sauce into a bowl (or jar) and let it sit for 15-20 minutes and serve at room temperature.

FOR THE SKIRT STEAK (CARNE ASADA)
1-2 lbs skirt steak
2 TBL olive oil
Kosher Salt
Fresh ground Black Pepper
Directions:
Heat grill to 375º. Drizzle oil over steaks and season with salt and pepper. Grill the steaks, 4 to 5 minutes per side for medium doneness. Remove steaks from heat and transfer to a cutting board. Cover loosely with foil and let the steaks rest, 10 minutes.
Cut the steak in one-inch slices (against the grain of the meat) and drizzle with the chimichurri sauce. Be sure to include a bowl or pitcher of any extra sauce for serving.
 Deliciosa comida!
*ABOUT SOUR ORANGES - I've been watching Eva Longoria's "Searching for Mexico" on CNN (it's another iteration of Stanley Tucci's "Searching for Italy") and sour oranges (naranja agria) loom large in many Mexican recipes as well as other countries around the world. Like the name suggests, they are a tart (think lemon/orange/lime flavor) and a rather unattractive version of oranges. In Mexico, they are used primarily for marinating meats and fish. I used them for my margaritas or just with seltzer. I don't think they are readily available in the U.S. but I'm a big fan of them now!
---