Better Homes & Gardens Classic Lasagne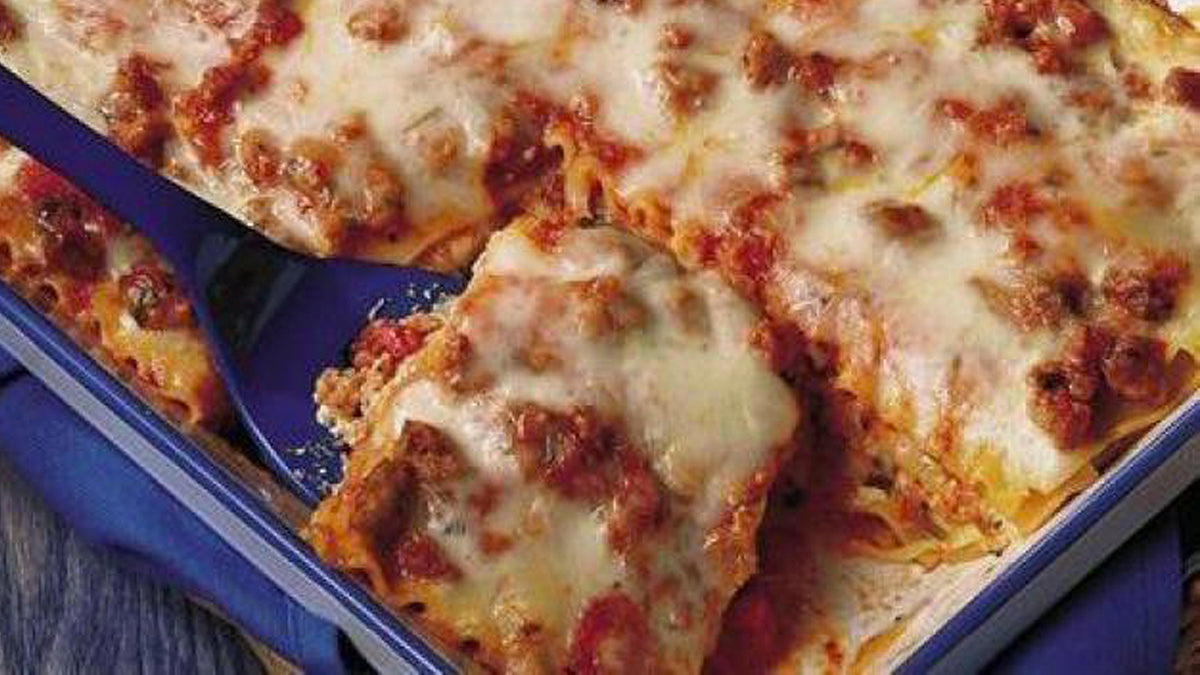 Joan first shared this recipe in 2015. It's from an old BH&G cookbook which most baby-boomers would recognize from it's red/white plaid cover. We have gotten more (wonderful) comments on this recipe than any other on our website. Read a few at the end of this article.
First published April 2015
I was going through some old cookbooks from the 1960s with my friend Vicki the last time I was in Maine.  What a flashback to some really great "Mad Men" era recipes. This lasagne (notice that spelling!) recipe was one of my favorites from the always-dependable Better Homes & Gardens Cookbook. In fact, it the first meal I ever made for "company" after I got married.
In searching for a photograph online, I learned I'm not the only one who LOVED this recipe–and still does!  This is a true classic and family favorite.
Here's the recipe….straight from Vicki's cookbook…
The comments are as wonderful as the recipe!
Thanks for sharing that recipe! I lost all my cookbooks in Hurricane Frances.
Thank you so much for sharing the picture of the actual cookbook page! Although I found several recipes online saying they were the Better Homes and Gardens "classic lasagna recipe", they were not the recipe I first used in 1970 as a new bride from the cookbook my mom gave me as a shower gift. Seeing the cookbook page with the 'e' on the end of the word instead of the 'a' I knew this was the one! My son has requested I make it for Christmas Eve and my old cookbook is in storage. Yikes!! But you saved the day.
Thanks so much for sharing! My mom threw all her cookbooks away before she passed away. Never thought I would see this wonderful recipe again!
I was so glad to find this recipe. I have no idea what we did with my book. I know the pages were getting torn but I loved this recipe. I looked at other ones online I knew they didn't sound right. I looked in the new Better Home cookbook which I have and it's not in there. When I saw the yellow tabs I knew this was my old cookbook that I had gotten for a wedding gift. So glad to find it, thanks.
Thank you for this as this is the recipe I always made. Lost the cookbook in a divorce and so wish I had it. It was given to me 51 years ago this month and wish I could find the same book again. The new one just is not the same.
I'm in a wheelchair after a hard fall, but we wanted Lasagne – and I used my elderly copy of the BH&G cookbook to teach my husband how to make this LAST NIGHT! I just emailed the recipe to my DIL to keep the magic going for another generation!
---
1 comment
---
---