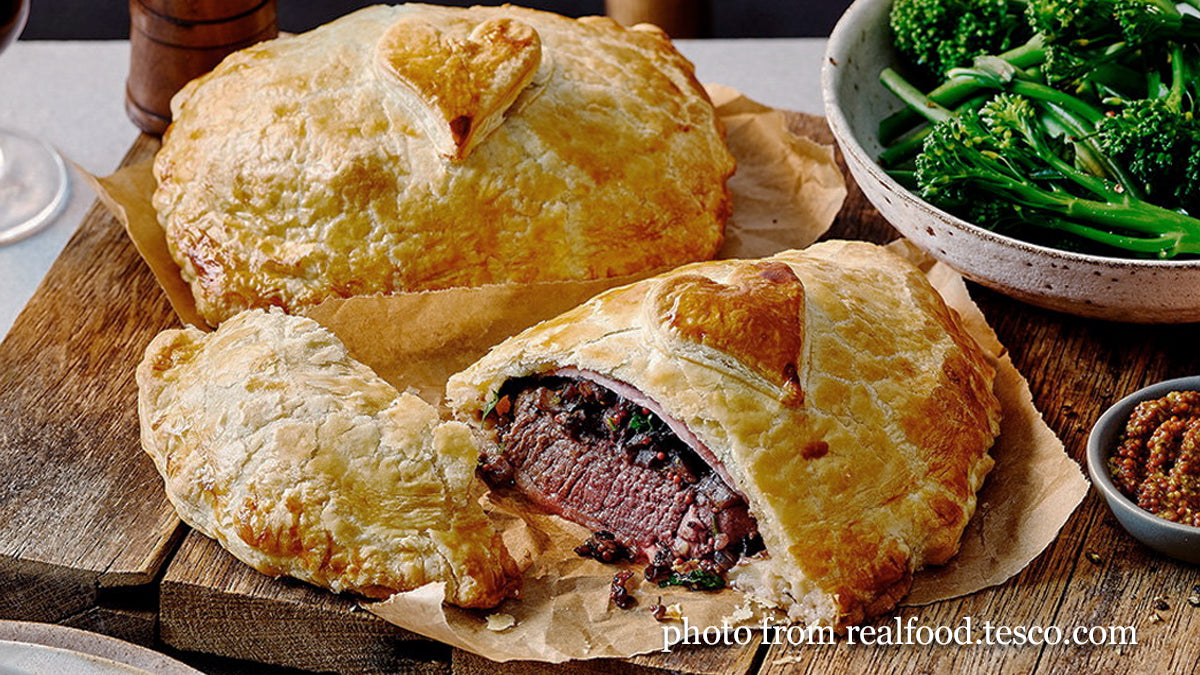 First posted on our website on February 2013
I made this recipe (based partly on a Gordon Ramsey recipe) for individual Beef Wellingtons a few years ago for a Valentine's Day dinner.  They were delicious!  To honor the day I cut out heart shapes from leftover pastry and added to the top of each Wellington.  (Unfortunately I didn't get a photo...the one used here is from a similar recipe).  I served it with asparagus and smashed new red potatoes.
(This recipe will actually make 4 but you just might want seconds...or definitely leftovers!)
INGREDIENTS:
4 (6oz) thickly cut filet mignons
2 tablespoons olive oil
1 tablespoon English mustard (Dijon or a spicy mustard will do)
10 oz mushrooms - button, cremini or wild mushrooms (or combination)
2 tablespoons minced shallot
2 tablespoons butter
1 large sprig fresh thyme
1/4 cup dry sherry
4 thin slices prosciutto
1 package (should only need 1 sheet) puff pastry, thawed
Some flour for rolling
1 egg yolk beaten with 1 tsp water
Salt & Pepper


DIRECTIONS:
1.  Line a baking sheet with parchment paper and set aside.
2.  Season both sides of each filet with salt and pepper.
3.  Heat 1 tablespoon of the oil in a large heavy skillet over medium-high heat. Add the filets and sear for 1 minute on each side for medium-rare. Transfer to a plate to cool completely.
4. (for Mushroom Duxelle) In a food processor, use pulse setting to finally chop mushrooms and shallots until they have the texture of coarse dry breadcrumbs not mushy or wet.
5. Heat 1 tbsp of the oil and all the butter in a large pan and fry the mushrooms and shallot on a medium heat, with the thyme sprig, for about 10 mins stirring often, until you have a softened mixture. Season the mushroom mixture with salt and pepper, add sherry and cook for about 10 minutes or until all the wine has been absorbed.   The mixture needs to be quite dry and should hold its shape when stirred.  Remove the mushroom mixture from the pan to cool and discard the thyme.
6.  Preheat oven to 425 degrees.
7. After the filets have cooled brush (or use your hands and rub) the surface of the filets with the mustard and set aside.
8. Roll out the thawed puff pastry on a lightly floured surface to a 14-inch square, and cut into 4 (7-inch) squares.
9. Place a 1 thin slice of prosciutto in the center of each puff pastry square.
10. Spread one-quarter of the mushroom duxelles on top of each filet and press into the meat.  Place one filet, mushroom side down, in the center of the prosciutto on puff pastry square.  First fold the prosciutto over the filet then the pastry as though wrapping a package (cut off pastry you don't need and save for the heart shape on top!)  Using a pastry brush or your finger, paint the inside edges of the pastry with egg wash before sealing then press the edges to seal.
11. Place the packages seam-side down on the baking sheet.  Add the heart cut out on top and brush the egg wash over each package (top and sides) and bake until the pastry is golden brown and an instant-read thermometer registers 140 degrees for medium-rare, about 20 minutes.
12.  Remove from the oven and let rest for 10 minutes before serving.
---