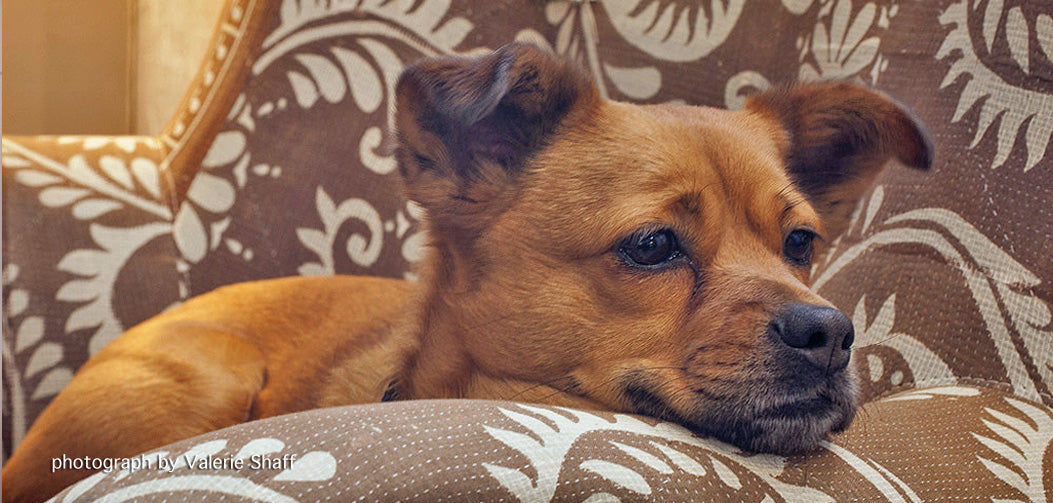 Photo by Val Shaff
We are devastated to report that another furry member of our Hammertown family has crossed the rainbow bridge. The passing of Joan's constant companion (and Hammertown model extraordinaire) will leave an enormous hole in the hearts of our staff and so many of our customers who knew her.
Etta (right) was predeceased by other shop dogs Foxy and Snooker....AND
by her beloved mentor, ABBY, who taught her the ropes when Joan adopted her (photo by B. Docktor)



ETTA WAS A WORKING GIRL AT HAMMERTOWN
(MOSTLY AS A MODEL)
Professional photographer, John Gruen, describes Etta's skill as a model...

 Photo by John Gruen
COMFORTABLE WITH EVERYONE...EVEN CELEBRITY CUSTOMERS
Most people don't know this but Etta was a raging liberal who valued her freedoms. She was thrilled to meet Hillary when she visited Hammertown Barn.
ETTA AT WORK!
Painting by Alexis England
WE'LL SEE YOU ON THE OTHER SIDE...
UNTIL THEN, SLEEP WELL DEAREST ETTA
---
8 comments
---
---