Maine Chooses You! (by Joan)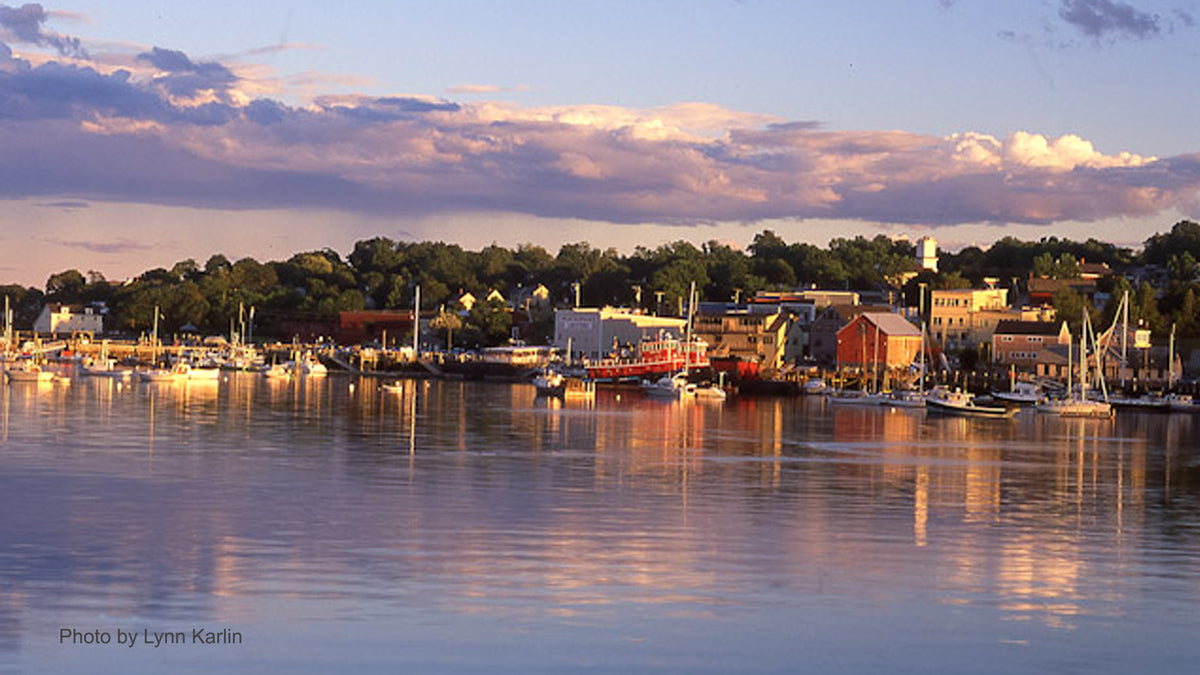 "Maine chooses you!" So says my dear friend Sharon Mrozinski, one half of the 30-year partnership that is the shop Marston House. The photo above of Sharon & Paul's kitchen in Vinalhaven is from the book "The Maine House".
Over 50 years ago I visited Maine for the first time. My friend in college, Vicki, invited me up for the weekend before we were to start student teaching. As we drove up the coast, it was new territory for this young New Jersey girl. I thought it was so amazingly beautiful as we passed by the inlets and coves, the bucolic villages and the pure landscape. We arrived in Belfast on a cold winter day at a beautiful brick house on High Street. Vicki's wonderful Maine-born and bred parents were there to offer me a warm welcome. And, so began my enduring love for this beautiful state, home and family.
Belfast Harbor
Since that first visit, there hasn't been a year that I haven't been to Maine. The amazing coastal route along Route 1 to Belfast is a yearly journey, a pilgrimage of sorts that continues to satisfy and pique my curiosity. This "perfectly imperfect" town has become an integral part of my soul over the years.
My Etta, who rides "shotgun" on my trips, loves Maine too!
I've explored and continue to explore the many back roads and farms, the islands off the coast, and many charming coastal towns...from Wiscasset, Rockland, Blue Hill, Castine, Brooklin and York to Vinalhaven, Monhegan Island, Port Clyde, Tenants Harbor and Little Cranberry Island. And, of course, the restaurants make the area a foodie's delight: Long Grain, The Lost Kitchen, Young's Lobster Pound, The Hoot, Chase's Daily, The Belfast Coop, brick oven pizza from the food truck in Belfast Harbor, Lincolnville General Store, the Saturday Farmer's market in Belfast, and so much more.
Vinalhaven Harbor
Maine helped shape me as a young woman, inspired and nourished me, helped shape my life's work and passions, and has given me "forever" friendships. I truly feel, as Sharon says, that MAINE CHOSE ME!
And, it all started in Belfast, in a beautiful historic brick house on High Street, filled with friendship, kindness, good food and love. It calls me back every year!
CLICK HERE TO SEE SOME OF THE
GREAT VINTAGE THINGS I FOUND FOR
HAMMERTOWN!
MORE PHOTOS FROM THIS TRIP TO MAINE
The view of Vinalhaven from the Ferry
Look who I ran into in VINALHAVEN. Jeff Mousseau & Paul Riccardi of the Ancram Opera House! Small world!
View from a room overlooking Carver's Pond
Damn...this SOLD before I could get it. Purchasers are designing a kitchen around it!
Inside Marston House Vinalhaven
Paul and Sharon look over a vintage Land Rover
A closer look at that Land Rover!
Chase's Daily. The farm vegetables have arrived!
A beautiful coastal home overlooking the bay
---
2 comments
---
---