Let's NOT put everything on the table!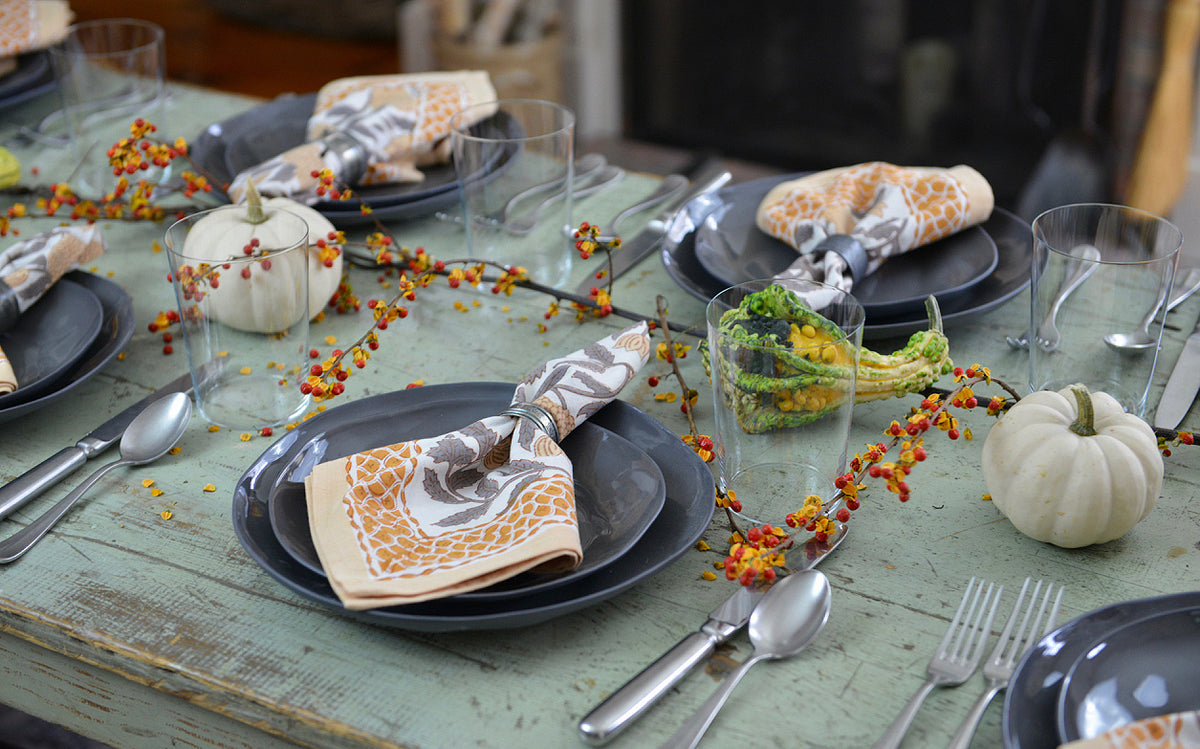 From our archives - November 2018
Last week I read an article in the New York Times about holiday table settings. As always, there was a lot of good advice and gorgeous photographs, but I have to say even though the tables that were featured looked amazing, many seemed "over the top" for my taste with too many things cluttering the table. Some looked like every piece of silverware, every glass, every plate they could fit on the table was used. I do "get" that holiday dinners are often the only time it seems appropriate to use the good china, tablecloths and silverware but it's just a little too busy for me. That, of course, got me to thinking about what kinds of table settings I find attractive and welcoming.
When thinking about table settings, for me simplicity is key! Beautiful dishes and napkins, organic and foraged table decorations, sparkling glasses, fresh plants and fruits, simple place cards. They set the stage for your table. You don't want to crowd your table...let the elements speak for themselves.
So, here are my suggestions for setting the table this Thanksgiving. Obviously, our Hammertown stores are a great place to find linens, silverware, candles, votives, candlesticks and more. And, of course, Entertaining in the Country -- the book I wrote with Abby Adams -- has even more resources and great ideas for inspirational table settings. An autographed copy of Entertaining in the Country would also make a wonderful hostess gift if you're going to someone else's home for Thanksgiving/Christmas dinner...just sayin' :)
Drew Evans clean industrial yet warm table setting
The Lost Kitchen Pop Up at Hammertown
Dinner setting for Michelle Ragussian Pop-Up dinner
---
 THANKSGIVING & CHRISTMAS TABLE SETTINGS TIPS

• I steer clear of decorating the Thanksgiving table with turkeys and big orange pumpkins or Santa Claus, Reindeer and Elves for Christmas
• Plants and fruits are great to decorate the table with, along with other things from nature such as foraged leaves, twigs, bittersweet, evergreens, etc.
• Don't like holiday themed cloths. I love simplicity. For instance, using linens with interesting textures and patterns. I also skip tablecloths all together especially if you've got a great old table with wonderful patina.
• I agree with the NYT article here: Invest in Stemware!
"Nothing speaks louder in a setting of celebration than the clinking of water or wine glasses"... The right glassware can influence the mood at the table. Lovely stemware (and flatware) always highlight a table.
• Candles, votives, vintage brass candlesticks add a lot of character to table
HAMMERTOWN SHOPPING LIST
** Napkins, glassware, flatware, and dishes shown here WERE ALL available at Hammertown in 2018 (some items still are).**
WE HAVE ALMOST EVERYTHING YOU NEED FOR THANKSGIVING
(EXCEPT THE TURKEY)
• candles • votives • vintage candlesticks • napkins • table runners • dishware • flatware • wine glasses • water glasses • serving ware and more!
---