First Impressions: Choosing the Exterior Color for Your Home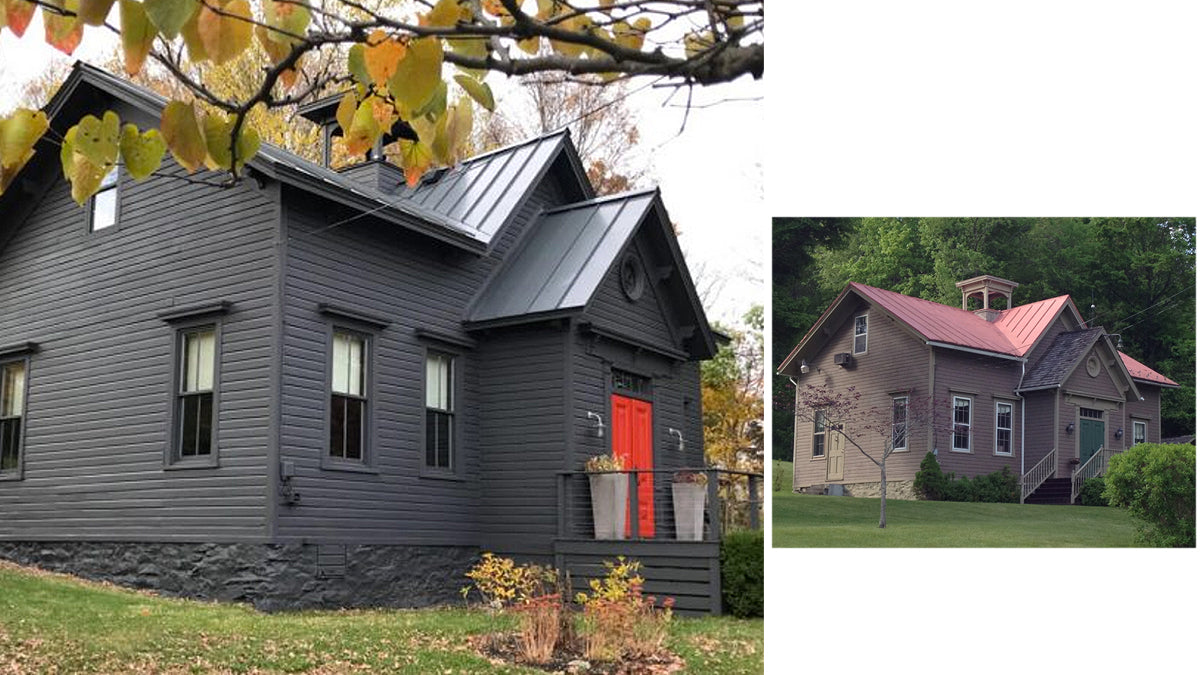 First published October 2017
from our archives
As all of you know, I'm obsessed with paint colors so it should be no surprise that I was totally engrossed when Hammertown's own Drew Evans decided it was time to repaint the exterior of his wonderful home.  Here is Drew's account of what went into the job and his decision-making. — Joan
This is what the house looked like when I bought it.
The house needed painting five years ago when I first moved in, but there were so many other projects (see one of them here…"Turning a 19th Century Schoolhouse into a Home" unfortunately photos are missing from the archive version but we're working on it) and priorities, that I had to put if off until now.  In fact, over the last 5 years I've had a second story addition, a new roof, new windows, new deck and now new exterior paint.  I think I'm done!

Color-wise, I wanted to go with something modern and dramatic to counter how old the house is and so I had always planned to do some version of charcoal and orange.  There's a very dark monochromatic house on Union Street in Hudson that I've always admired and it inspired my choice of paint color.  The charcoal color I decided on was Benjamin Moore Wrought Iron.  I wanted to add some splash of color and basic red seemed too obvious so, I came up with the dark orang-y color (Benjamin Moore's Merlot Red).  It's interesting how different the Merlot Red looks at different times of the day.
The exterior paint job turned out to be a much bigger project than I realized.  It ended up being more of an exterior renovation than a painting job as much of the wood was rotten and all the old paint was lead-based which required an EPA-certified crew to remove it.
The removal of the old lead paint was painstaking.


The white area is where the old back door was.  I removed it a couple years ago and moved the back door to the back where it was primed and waiting to be painted.



Tah dah!  Finished back of house with my new door! SO much better!

The paint crew was AMAZING (Jeff Dunleavy of 3M Painting and Restoration, Millerton NY – 845 337-7835).  It was a two-month process that included stripping lead paint, hand sanding the entire house (because of the age of the siding sanding machines could only work on part of the wood), priming, then sanding again and then two more coats of paint.


I'm really happy with the way it turned out!
WELCOME!
---
1 comment
---
---