The Silver Palate's Chicken Marbella with Olives, Capers & Garlic (from our archives)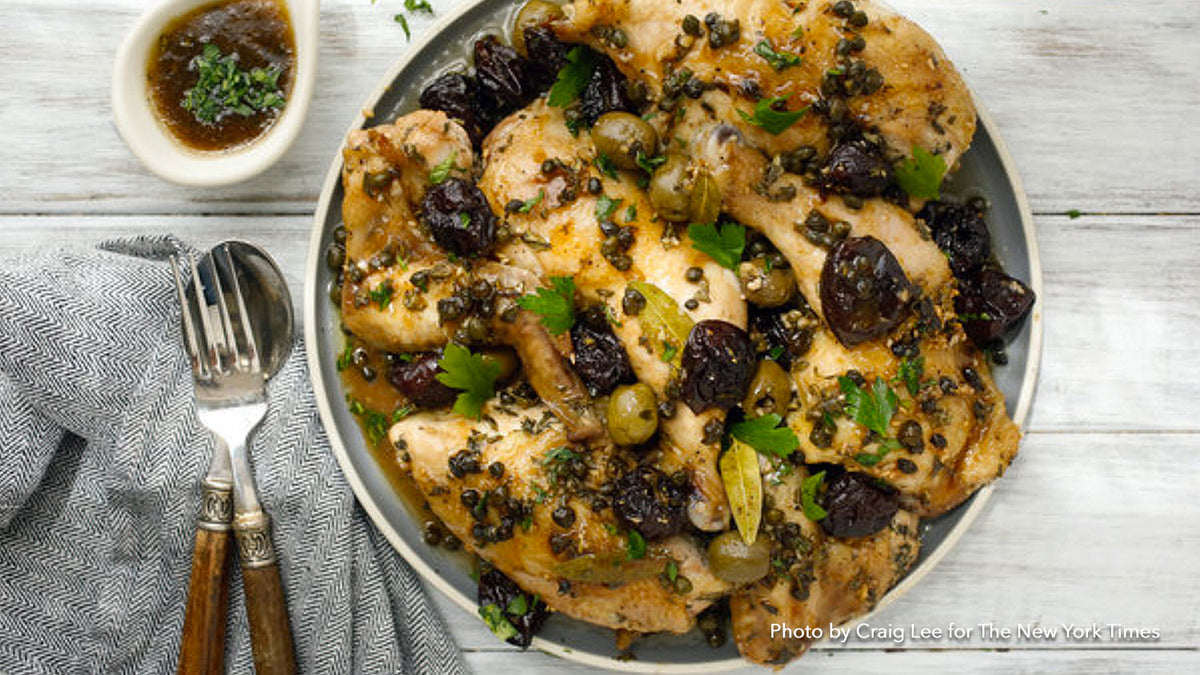 PUBLISHED SEPTEMBER 3, 2009
by Joan
Sheila Lukins, author of The Silver Palate Cookbook, one of my favorite cookbooks, died this past Sunday (8/30/2009). Like Julia Child, Sheila, (and her co-author, Julee Rosso) were influential people in my culinary "coming of age".
She helped show us there are no limits to our food horizons. She encouraged us to entertain more often and showed us how it can be done beautifully, as well as simply. Chicken Marbella, Carrot and Orange Soup, Gravlax, Taramosalata, Nutted Wild Rice Salad,and many more dishes were part of my entertaining repertoire in the 80's, thanks to Sheila.
For 24 years The Silver Palate Cookbooks have had a place on our cookbook shelves at Hammertown — that's how influential these books are. I was so sad to read of Sheila's passing on Monday. In her honor, here is one of the most classic and famous recipes from The Silver Palate Cookbook…Chicken Marbella, with olives, capers and an entire head of garlic.
ORIGINAL RECIPE FROM OUR ARCHIVES BELOW
(16 pieces, 10 or more portions)
Ingredients:
4 chickens, 2- 1/2 pounds each, quartered
1 head of garlic, peeled and finely pureed
1/4 cup dried oregano
Coarse salt and freshly ground black pepper to taste
1/2 cup red wine vinegar
1/2 cup olive oil
1 cup pitted prunes
1/2 cup pitted Spanish green olives
1/2 cup capers with a bit of juice
6 bay leaves
1 cup brown sugar
1 cup white wine
1/4 cup Italian parsley or fresh coriander (cilantro), finely chopped
Directions:
1. In a large bowl combine chicken quarters, garlic, oregano, pepper and coarse salt to taste, vinegar, olive oil, prunes, olives, capers and juice, and bay leaves. Cover and let marinate, refrigerated, overnight.
2. Preheat oven to 350 degrees.
3. Arrange chicken in a single layer in one or two large shallow baking pans and spoon marinade over it evenly. Sprinkle chicken pieces with brown sugar and pour white wine around them.
4. Bake for 50 minutes to 1 hour, basting frequently with pan juices. Chicken is done when thigh pieces, pricked with a fork at their thickest, yield clear yellow (rather than pink) juice.
5. With a slotted spoon transfer chicken, prunes, olives and capers to a serving platter. Moisten with a few spoonfuls of pan juices and sprinkle generously with parsley or cilantro. Pass remaining pan juices in a sauceboat.
6. To serve Chicken Marbella, cool to room temperature in cooking juices before transferring to a serving platter. If chicken has been covered and refrigerated, allow it to return to room temperature before serving. Spoon some of the reserved juice over chicken.
---
1 comment
---
---