Summer Quinoa Salad with Scallions, Cherry Tomatoes & Kale Pesto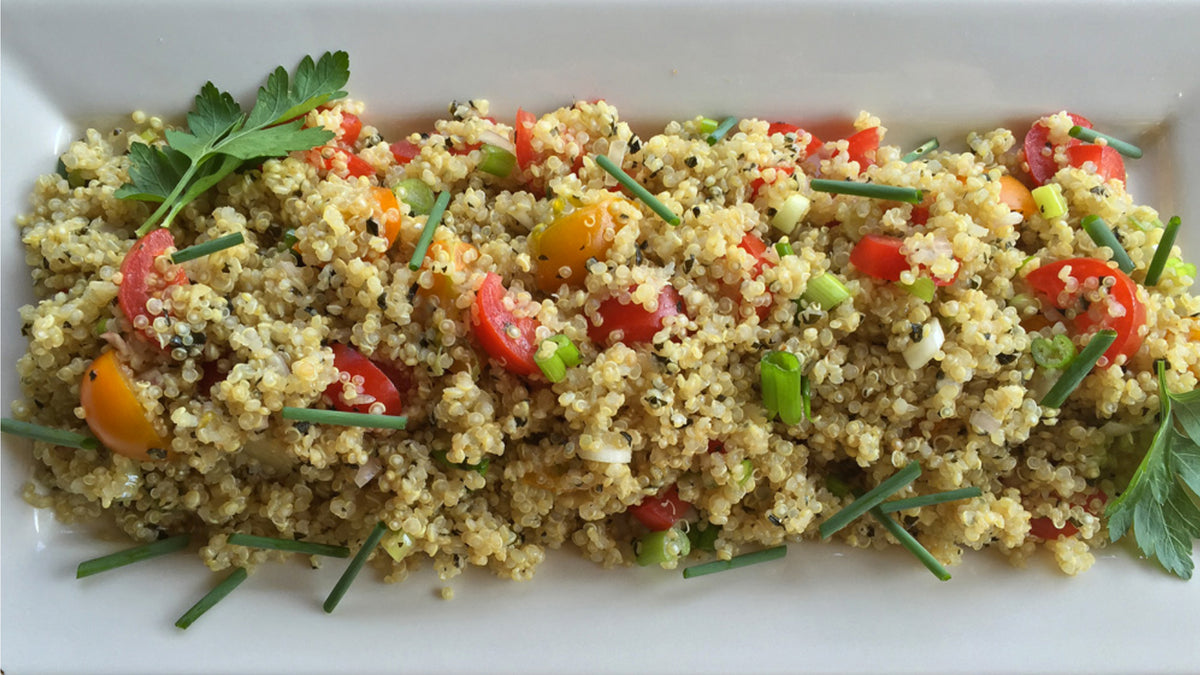 From our archives July 2015
Here's another delicious, healthy and VERY easy summer salad. I needed to make something to serve at our recent Salon with author Priya Parmar and I came up with this. I love quinoa and simply added some of my favorite (fast) ingredients. It came out SO WELL, I just HAD to share it with you. Seriously...it only takes about 30-40 minutes to make and it's gluten free! This is one of those recipes that will work as a base recipe and you can make it your own by adding or subtracting ingredients that fit your taste.  Enjoy!
(makes 4-6 servings)
Ingredients:
1 cup organic pre-washed Quinoa
2 cups chicken broth (or use vegetable broth to make this a vegetarian dish)
1 bunch of small scallions or 4-5 larger scallions (sliced about 1/8 to 1/4 inch thick to make 1/3 cup)
1 finely diced shallot (about a 1/4 cup)
 A pint of Cherry or Grape Tomatoes (red and/or yellow or any color!) - cut in half or quartered to make about 3/4 cup
2 Tablespoons (or more if you like) of your favorite kale pesto.**
Salt & pepper to taste
Optional: Some fresh parsley and/or chives for garnish
Directions:
1. To cook Quinoa:  Place 1 cup Quinoa and 2 cups stock in a 1.5 quart saucepan and bring to a boil. Reduce to simmer, cover and cook until all water is absorbed; about 15 minutes (when done, the grain appears soft and translucent, and the germ ring will be visible along the outside of the grain).
2. While quinoa is cooking, prepare the scallions, shallot and tomatoes.
3. After quinoa is done and has cooled a bit, add the pesto, tossing to mix in thoroughly. Add prepared scallions, shallot and tomatoes.  Salt and pepper.  Toss again to mix in thoroughly.  Garnish with parsley and or chopped chives.
4. Serve at room temperature or refrigerate and serve chilled.  It tastes even better the next day!
**Or make your own using the pesto portion of this recipe. https://archive.hammertown.com/2011/09/pasta-with-kale-pesto-roasted-butternut-squash/ 
---