Pasta with Asparagus & Preserved Lemon (from "Six California Kitchens" by Sally Schmitt)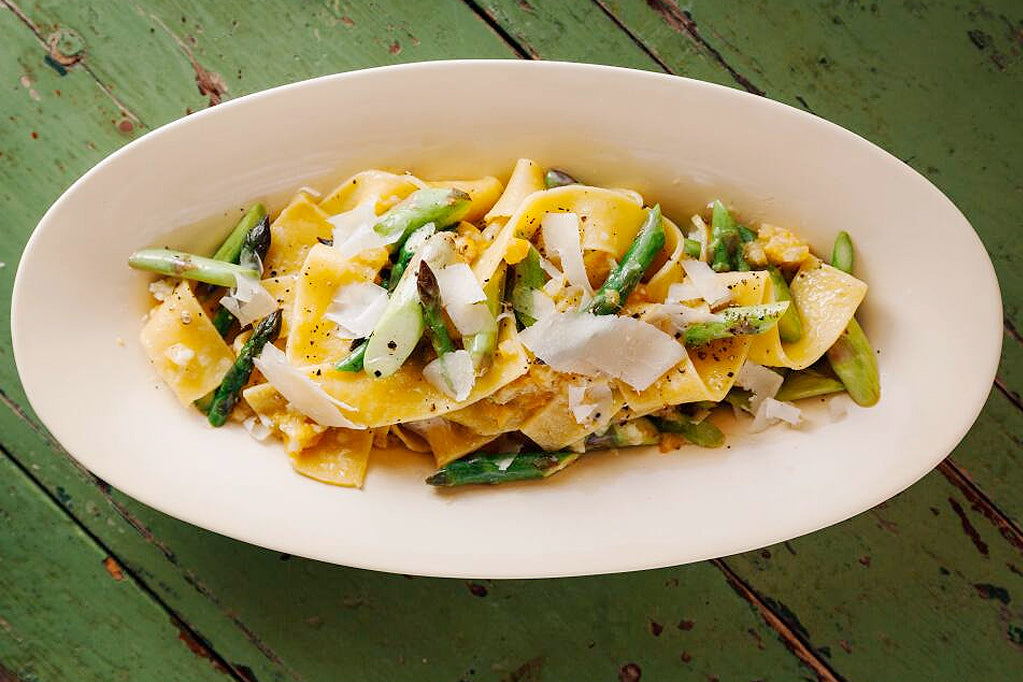 From the new book by the late Sally Schmitt - "Six California Kitchens". Before Thomas Keller, it was her French Laundry. Sally Schmitt sold the French Laundry. Then it became "the best restaurant in the world."
"As an all-in-one meal, this was a favorite lunchtime offering during our Apple Farm weekends," Schmitt said. "It was also a perfect use for the preserved lemons we like to make and have on hand."
Pasta with Asparagus & Preserved Lemon
(Serves 6 to 8)
— Salt
1 pound dried pasta, such as linguine, fettuccine or pappardelle
¼ cup butter or olive oil
1 bunch (1 pound) asparagus, trimmed and cut diagonally into 1- to 2-inch pieces
¼ cup or more Preserved Lemons (recipe follows)
— Chunk of good Parmesan cheese
— Fresh lemon wedges
— Best-quality olive oil
Bring a large pot of water to a boil for the pasta. When it comes to a full boil, add a generous amount of salt and the pasta and cook until the pasta is just tender. Remove and reserve a generous amount of the cooking water. Drain the pasta in a colander.
While the pasta is cooking, in a large skillet over medium heat, melt or warm the butter or olive oil. Add the asparagus and saute until almost tender, but still crisp. Remove from the heat and let rest, uncovered.
Mince the preserved lemons, including the rind and pulp. (You can rinse the lemon before you mince it to reduce the salt.)
In a large bowl, toss the asparagus and preserved lemon with the pasta, adding a little of the reserved cooking water to loosen the pasta as needed.
Grate the Parmesan cheese with a microplane, or shave with a vegetable peeler to make pretty curls. Sprinkle the cheese over the top of the pasta and serve at once with the lemon wedges and a drizzle of your best olive oil. You may want to add a squeeze of fresh lemon juice at the end for extra zing.
"There are many variations of these lemons, but this is my way of preparing them. I prefer to keep them simple and pure, with no other ingredients," Schmitt said.
PRESERVED LEMONS RECIPE
Preserved Lemons
3 or 4 lemons
1 cup kosher salt, preferably Diamond Crystal
Wash and dry the lemons. Cut each into eight wedges and transfer to a medium bowl. Toss with the salt.
Pack into a ½-pint glass jar, pressing the lemons down into their juice. Cover and let stand at room temperature for 1 week, shaking occasionally. Store in the refrigerator, where they will keep for up to 1 year.
To use, finely dice or slice the preserved rind.
---