Corned Brisket New England Dinner (from Erin French)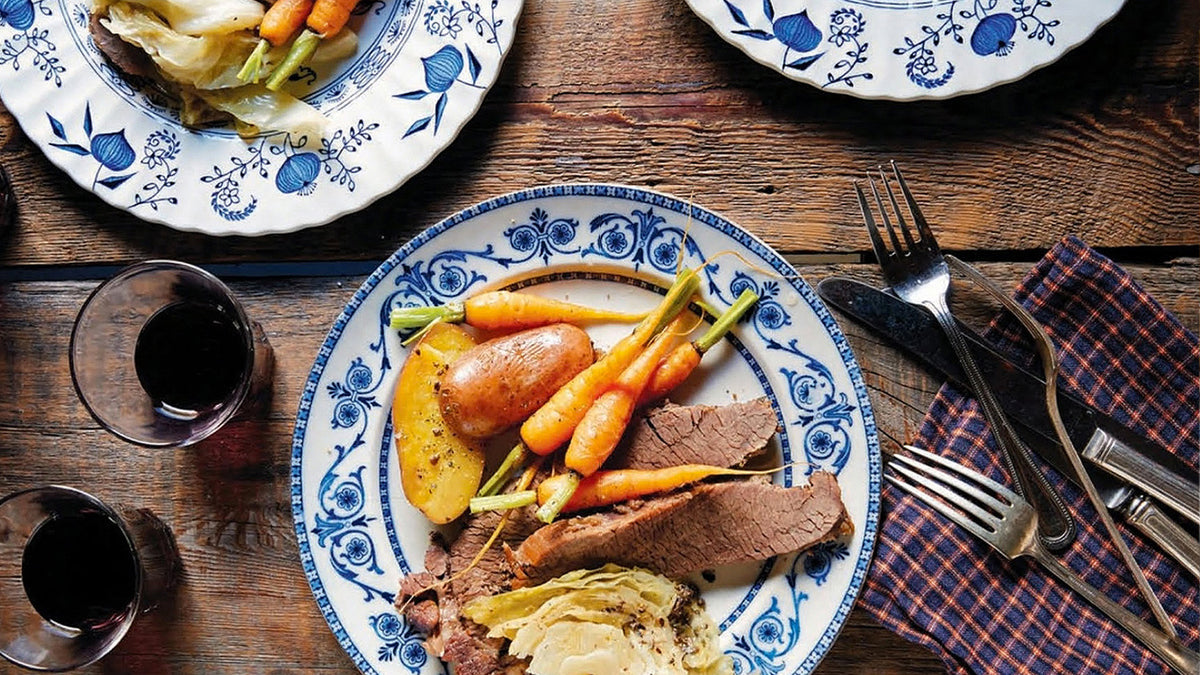 FIRST PUBLISHED DECEMBER 2017
This is comfort food at its best! Here's how Erin describes it in her book: "My grandparents always made me a traditional New England boiled dinner on my birthday, simmering the corned beef for hours with carrots, potatoes, turnips, and pickling spices like coriander and black pepper. Then everything was spooned onto a platter and served up family-style. That's my kind of winter dish."
NOTE: THIS DISH CALLS FOR TWO DAYS OF CURING
---
INGREDIENTS:
1 cup kosher salt
¾ cup packed brown sugar
½ cup pickling spices
6 garlic cloves
1 beef brisket (about 5 pounds)
1 pound potatoes, peeled (small potatoes are fantastic, but big white ones will do, too; just quarter them)
1 pound carrots, peeled
1 pound turnips, peels and diced
1 small head of green cabbage (about 1 lb) cut into 4 wedges
1 tablespoon chopped fresh parsley
1 tablespoon chopped fresh cilantro
Unsalted butter
Maldon salt and pepper
Dijon mustard
Apple cider vinegar
DIRECTIONS:
Make a brine by combining 1 gallon water with the salt, sugar, ¼ cup of pickling spices, and the garlic in a large pot. Bring it to a boil, then remove from heat and let cool completely.
Add the brisket to the brine, using a plate to keep it submerged. Refrigerate for 2 days to cure.
Remove the brisket from the brine and rinse. Put the brisket in a clean stockpot, cover with water, and add the remaining ¼ cup pickling spices. Bring to a boil, then reduce to a gentle simmer. Cover and cook until tender, about 4 hours.
Toss in the potatoes, carrots, turnips, and cabbage and continue to simmer until the vegetables are just tender, 10 to 15 minutes.
Strain the meat and vegetables from the cooking liquid. Slice the meat across the grain and arrange it on a platter alongside the veggies. Sprinkle with the parsley and cilantro and serve with butter, Maldon salt, pepper, mustard, and apple cider vinegar as condiments.
---