Cold Noodle Salad (from A Year at Catbird Cottage, by Melina Hammer)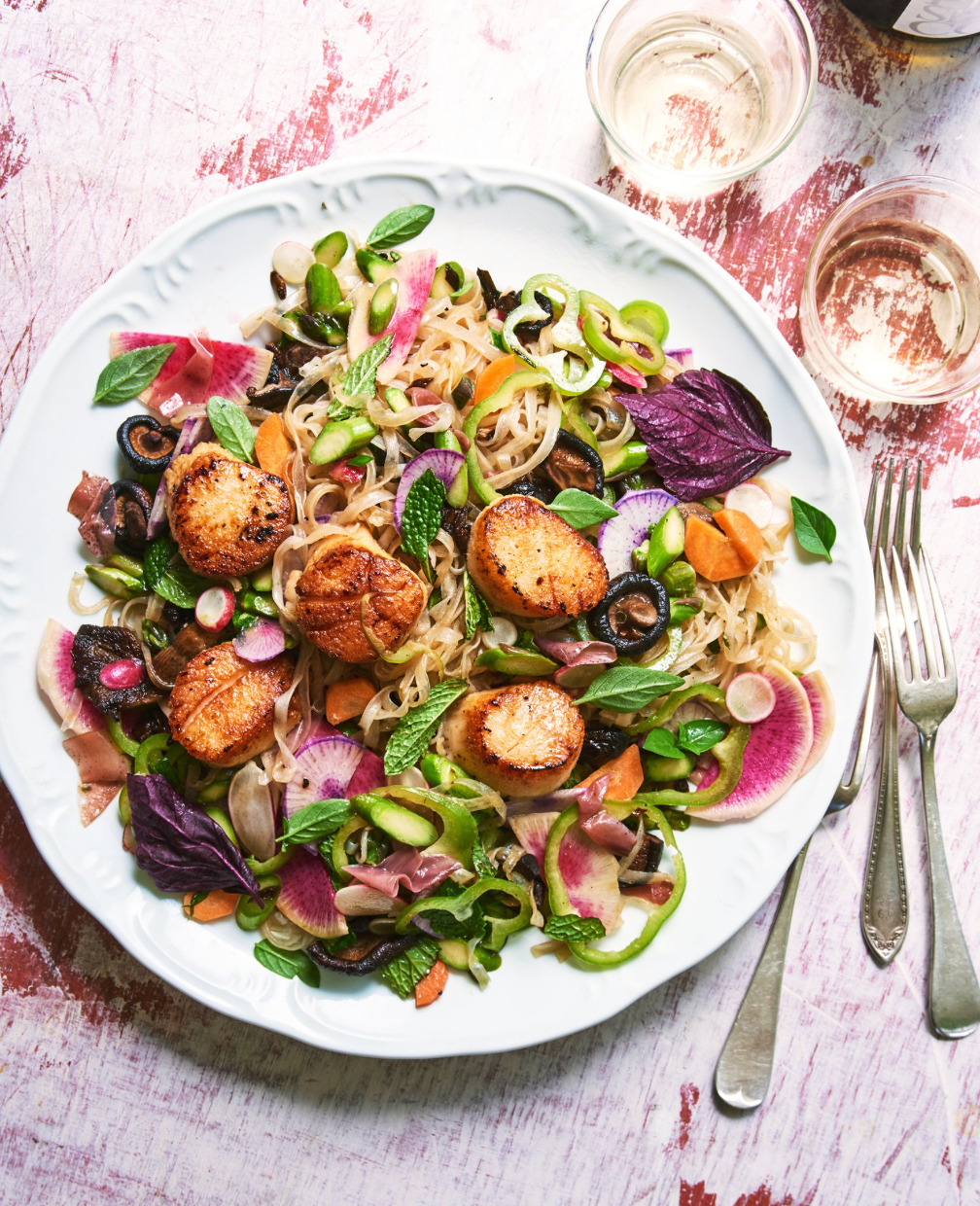 NOODLES
1 pkg noodles, cooked according to package instructions for al dente (soba, bean thread, angel hair, linguine are all good choices)
2-3 tbsp sesame oil
1 tbsp fish sauce
1 tsp soy sauce
1 tbsp pickle brine
1 tbsp fresh lime juice
 
TOPPINGS - CRUNCHY
3 cups, thinly sliced, choose up to four:
radishes
summer squash
green beans
kirby or Persian cucumbers
colorful bell pepper or sweet Hungarian pepper
asparagus
snap peas
steamed+shocked broccoli
 
TOPPINGS - MEATY
1-2 cups – choose one:
sautéed mushrooms (shiitake, cremini, oyster)
poached or sautéed fish flaked into pieces, such as salmon or halibut
seared scallops
cubed, roasted tofu
TOPPINGS - PICKLED
2-3 tbsp, very thinly sliced, choose a mixture:
pickled onions, peppers, radishes, carrots, summer squash, ginger, cornichons, etc*
jalapeño, very thinly sliced or minced
*Store-bought veggie pickles work great in a pinch. However, if you make your own pickles, here's a delicious and fun way to incorporate them.
TOPPINGS - FRESH HERBS
1/2 cup leaves plucked from stems or more – choose 2-3:
cilantro
mint
parsley
basil
shiso
DIRECTIONS
Cook pasta and drain. Drizzle a large bowl with the sesame oil and spread the oil around to coat the sides. Transfer noodles to the bowl and gently toss pasta to lightly coat all strands in the oil. Once the noodles have cooled enough to touch, add fish and soy sauce, lime juice, and brine, and toss together until well combined. Use your fingers to separate individual strands as needed.


Chop the crunchy elements. If you chose cucumber, peel the skin if it is tough, or if the cucumber isn't organic. If you have Kirby or Persian cucumbers their seeds are small and you can leave them intact. Otherwise, scrape seeds out with a spoon. Shave radish thinly on a mandoline for delicate, translucent disks. Thinly slice raw asparagus on a diagonal for a pretty effect. If you can find snap-fresh beans, they do not need to be cooked: simply slice them into thin coins.


Combine everything except any seafood in a large bowl and gently toss to incorporate. Taste and adjust seasoning as needed – there should be a balance of crunchy, salty, punchy, bright, and savory. Transfer noodle salad to a serving platter. Arrange fish or scallops to top, scatter any remaining fresh herbs, and enjoy.
From Melina Hammer's A Year at Catbird Cottage Cookbook
Photo Credit:  Melina Hammer
---