Chicken Stir-Fry with Green Beans & Tomatoes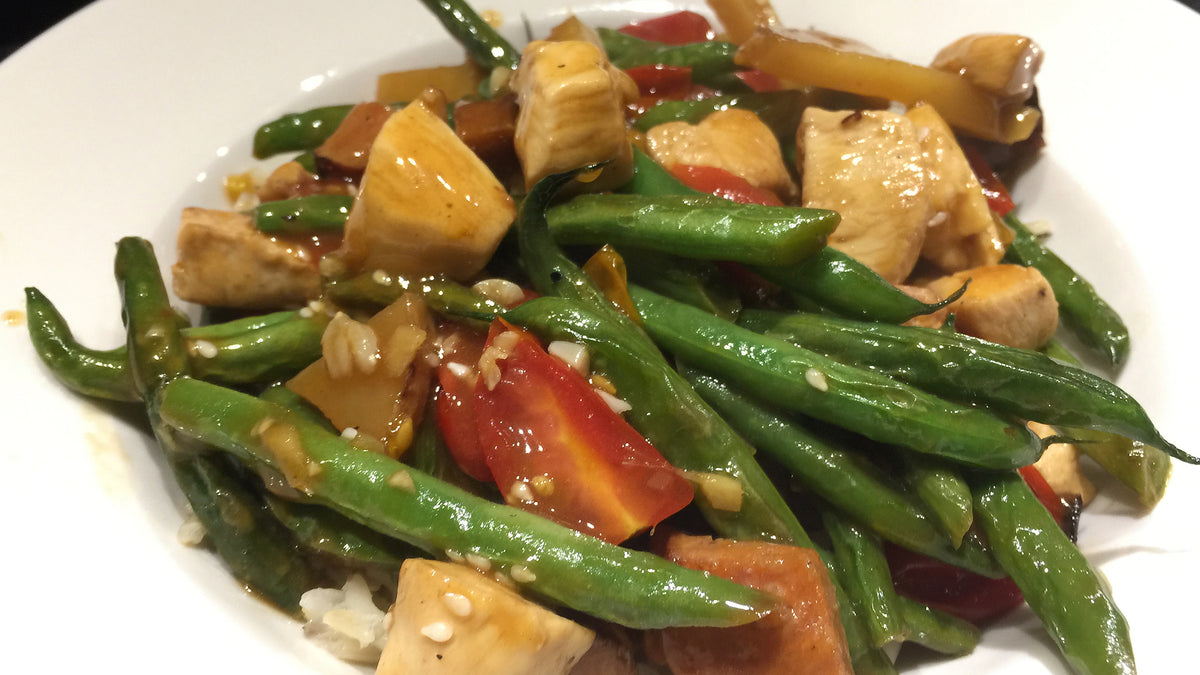 Our veggie garden surprised us with a plethora of green beans last week so I went in search of an interesting recipe. I finally found this one on Cuisine at Home magazine's website (click here to see this recipe on Cuisine at Home.) I made a few adjustments by adding bits of things I had in the fridge (a few left-over grilled potato and andouille sausage slices...which worked surprisingly well in this Asian recipe). The sauce is fantastic and very authentic-tasting...you'll want to serve with rice to be sure to soak up all the deliciousness.
Makes: 2 Servings
Time: 30 minutes
Ingredients
WHISK (or shake well in a jar):
½ cup each low-sodium chicken broth and dry sherry
¼ cup low-sodium soy sauce
1 Tbsp. cornstarch
2 tsp. each sugar and toasted sesame oil
1–2 tsp. chili garlic sauce (I used finely minced garlic & hot red pepper flakes)
HEAT:
5 Tbsp. peanut oil, divided (I used canola)
8 oz. fresh green beans, trimmed and cut on a bias
Salt to taste
12 oz. boneless, skinless chicken breast, cut into 1-inch pieces and patted dry
1 cup halved grape tomatoes
2 tsp. minced fresh ginger
Sesame seeds
Cooked white rice (I used Jasmine Brown Rice)
Instructions:
Whisk together (or shake in a jar) broth, sherry, soy sauce, cornstarch, sugar, sesame oil, and chili garlic sauce.
Heat
2 Tbsp. peanut oil in a wok or cast-iron skillet over medium-high until shimmering. Add beans and cook, stirring occasionally, until beans begin to blister, 4–5 minutes. Transfer beans to a paper-towel-lined plate; season with salt.
Add remaining 3 Tbsp. oil to wok; heat until shimmering over medium-high. Add chicken and stir-fry until cooked through, 3–4 minutes; transfer to plate with beans. Discard oil from wok.
Add tomatoes and ginger to wok, and stir-fry until heated through, 30 seconds. Stir in broth mixture; simmer until thickened 1–2 minutes, then toss in chicken and beans. Top stir-fry with sesame seeds and serve with rice
---