Beluga (black) Lentil Salad with Kohlrabi, Tomatoes & Herbs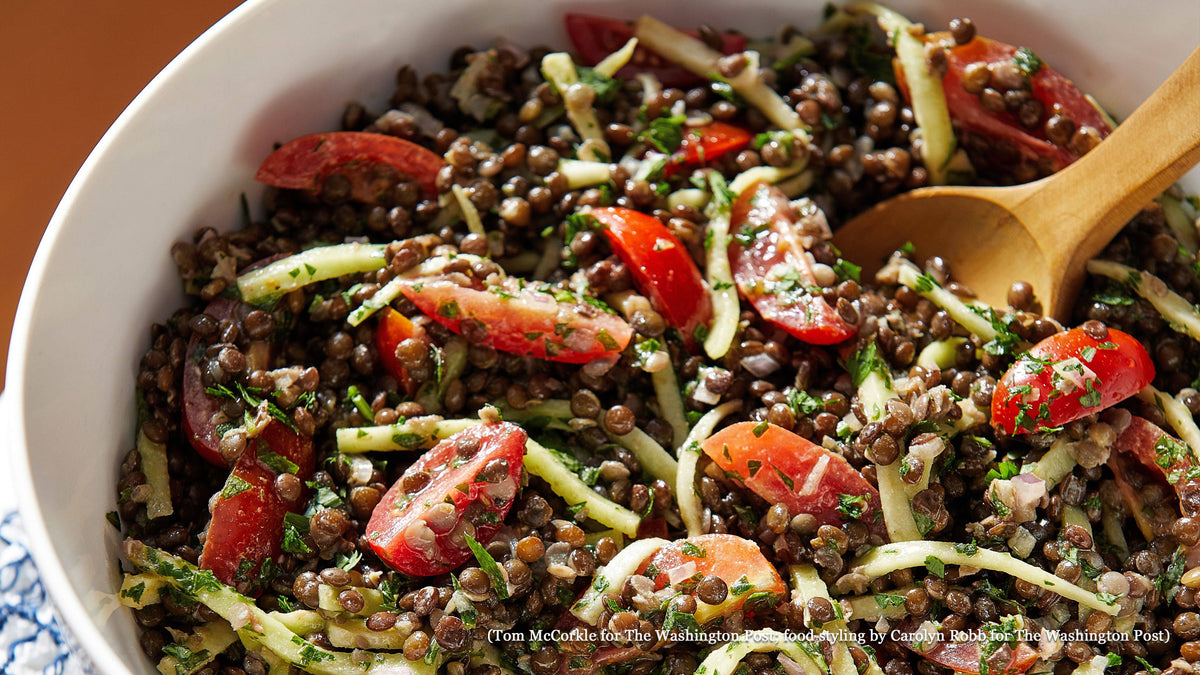 I found this great summer salad recipe in the Washington Post. (It's a recipe from Nourish columnist Ellie Krieger). Perfect for a picnic or summer supper side dish.
I didn't have Black (Beluga) Lentils on hand but I did have French lentils, which I actually find more flavorful and they stay firmer. Either will certainly do. We also just harvested our first kohlrabies from our garden and were excited to use them in a recipe. You can find them in farmers markets or you can substitute broccoli stems.
Servings: 6 
Total time: 25 mins (plus 1 hour cooling)
Ingredients
1 cup (6 1/2 ounces) black beluga lentils
3 tablespoons extra-virgin olive oil
1 tablespoon fresh lemon juice (* I also added a little white balsamic vinegar to take the tart edge off the dressing)
2 teaspoons Dijon mustard
1/2 teaspoon kosher salt
1/2 teaspoon freshly ground black pepper
2 medium bulbs kohlrabi or broccoli stems from one head of broccoli, tough skins removed, cut into thin matchsticks (about 1 cup)
1 cup grape tomatoes, quartered
1/4 cup chopped fresh flat-leaf parsley
2 tablespoons very finely chopped shallot
1 tablespoon chopped fresh tarragon or 1 teaspoon dried
Steps
1. Bring 4 cups of water to a boil in a medium pot.

2. Meanwhile, rinse the lentils and sort through them to remove any stones that may be present. Stir the lentils into the boiling water, reduce the heat to medium-low and simmer until they are just tender, 20 to 25 minutes. Drain and transfer to the refrigerator to cool completely, about 1 hour.

3. Once the lentils are cool, in a small bowl, whisk together the oil, lemon juice, mustard, salt and pepper.

4. In a large bowl, combine the lentils with the kohlrabi or broccoli, tomatoes, parsley, shallot and tarragon. Drizzle the salad with the dressing and toss to combine. Serve at room temperature or chilled.

From cookbook author and nutritionist Ellie Krieger.
---